Ian Knox's cartoons on display in Belfast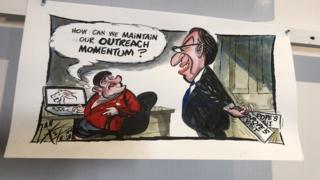 Satirical cartoonist Ian Knox has turned his eyes to architecture for a new exhibition.
Critical Crass features sketches of local landmarks and questions how the built environment can become politically charged.
Mr Knox has been the cartoonist for The Irish News since 1989. He also worked on Hearts and Minds, BBC NI's politics and current affairs TV programme.
"The partnership represents a return to my roots," he said.
"For me the personal is the political and I look forward to sharing my critique of the built environment with a new audience."
Among the works on display at the Royal Society of Ulster Architects (RSUA) is a work based on the ill-fated Maze peace centre.
The EU agreed to provide £18 million in funding for the former Maze Prison site, but in the end the plans for the centre fell by the wayside when consensus could not be reached on its design and funding was withdrawn.
Mocking politicians, challenging paramilitaries
Mr Knox was born in south Belfast in 1943 and later moved to Scotland to study architecture.
He worked in London before becoming frustrated with the architectural profession and moving into animation.
He soon discovered his love for satirical cartoons, in particular mocking politicians and challenging paramilitaries.
Another of Mr Knox's pieces laments the recent Belfast trend of clearing older historical buildings to make way for modern high-rise office and apartment blocks, many of which he portrays as still bearing weather-worn "to let" and "for sale" signs.
Joan McCoy, president of RSUA, said: "In this exciting new exhibition Ian combines his forensic analysis with a deep affection for our urban and rural surroundings.
"This display will challenge our preconceptions and highlight the damage poor design does in our towns and cities."
Another work takes a wry look at the difference between the Holylands in Belfast in 1980 and the student-crowded reality of today.
Mr Knox portrays the present-day location as crowded by overdevelopment, compared to idyllic back gardens almost 40 years ago.
The exhibition will run until 13 September.