Historic Lough Erne cots return for Belleek regatta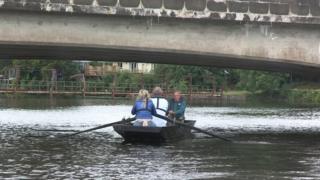 Even though it is several miles from sea, Belleek was regarded as County Fermanagh's port with good reason.
"The waterway was the only roadway, the only viable roadway there was," said Fred Ternan of Lough Erne Heritage.
"Therefore Belleek was the contact with the sea so Belleek in a sense was Fermanagh's seaport, albeit separated from the sea by about four miles."
The Lough Erne cot was the craft of choice when international trade took off in the 18th and 19th centuries.
Goods were transported overland from Ballyshannon in County Donegal, then transferred to boats to navigate the 50-plus miles of inland waterway on the Erne River.
Up to 55ft (16.8m) in length, it could carry cattle, people and huge amounts of freight - it was also easy to row and steer.
Racing them, with a team of two rowers and a steering paddler, gradually fell out of popularity as the cots themselves were replaced by motorised boats or had outboard motors attached.
But the cots will return to the water this weekend with the first ever Belleek cot racing regatta due to take place.
The history of the cot on the Erne goes back centuries.
"Because in many places the lake is rather shallow, you needed these small draught boats to travel about on," said historian John B Cunningham.
"Everybody who has been anybody in Irish history has travelled up and down here - from the Stone Age, the Bronze Age, the Iron Age, early Christian missionaries of the 6th Century, the Vikings of the 9th and 10th Century, the Normans of the 12th Century.
"And then the Irish chieftains of this area, the Maguires of Fermanagh, the O'Donnells of Donegal, the O'Neills of Tyrone - they all travelled up and down this waterway by cot."
The river shaped the history of Belleek, as it did for most of Fermanagh.
"From the pottery, which had the grinders run by the water wheels, to the fishermen who stayed in the hotel and wrote about it in the middle 1800s, the village itself is always on the end of the water system and it has benefitted from it over the years," said Michael McGrath, a local historian.
For the organisers, staging the Belleek regatta is a way of reuniting people with the water that defined their past.
"It's cross-border, it's cross-community and we can say it's international because the races are starting in Fermanagh and finishing in Donegal," said Bridie Gormley from the Belleek Chamber of Commerce.
"People used cots for many things - transporting livestock, transporting people to the islands in Fermanagh - so it's lovely to see this being played upon in this regatta."