NI newspapers: Entering the bear pit on a bumper Twelfth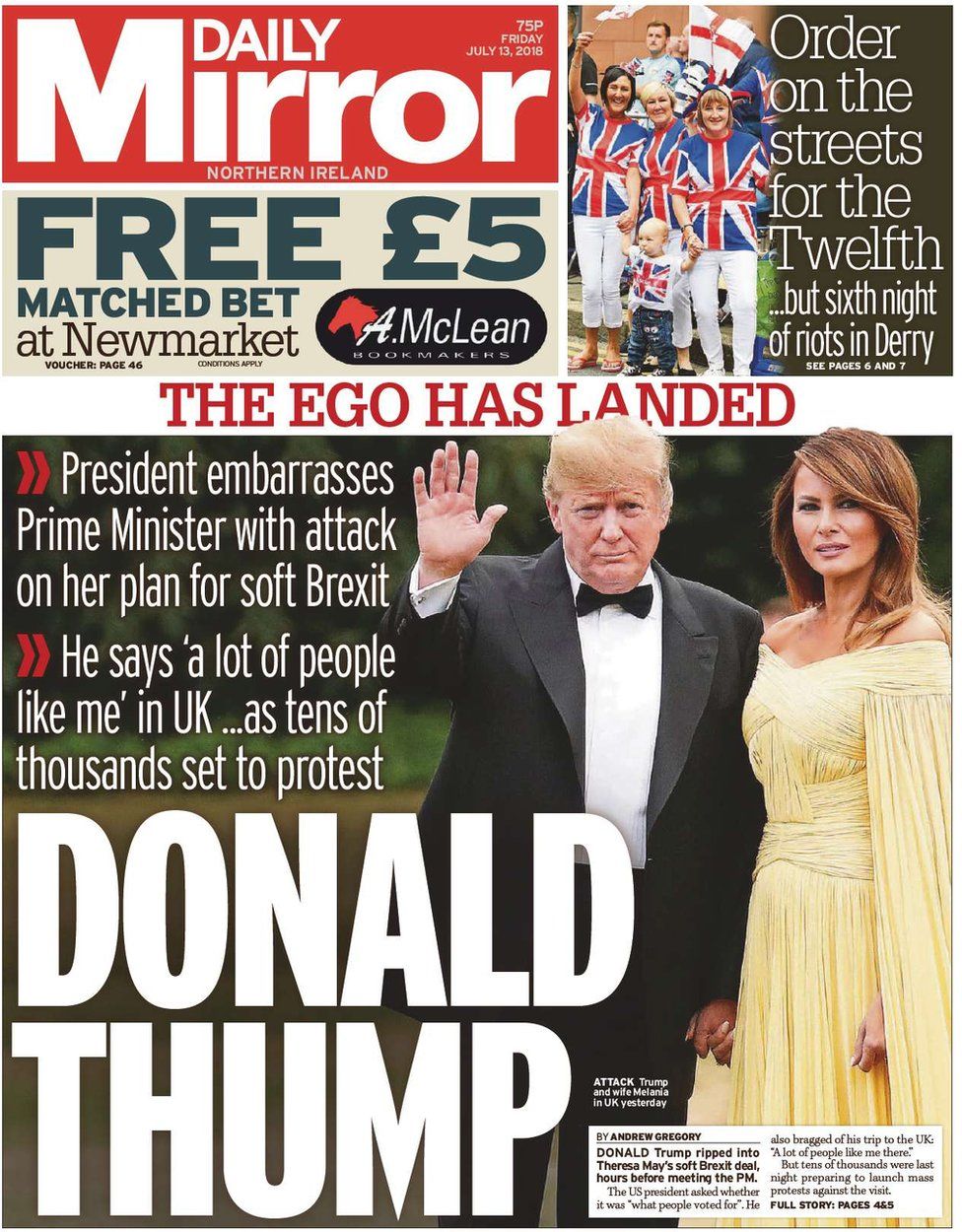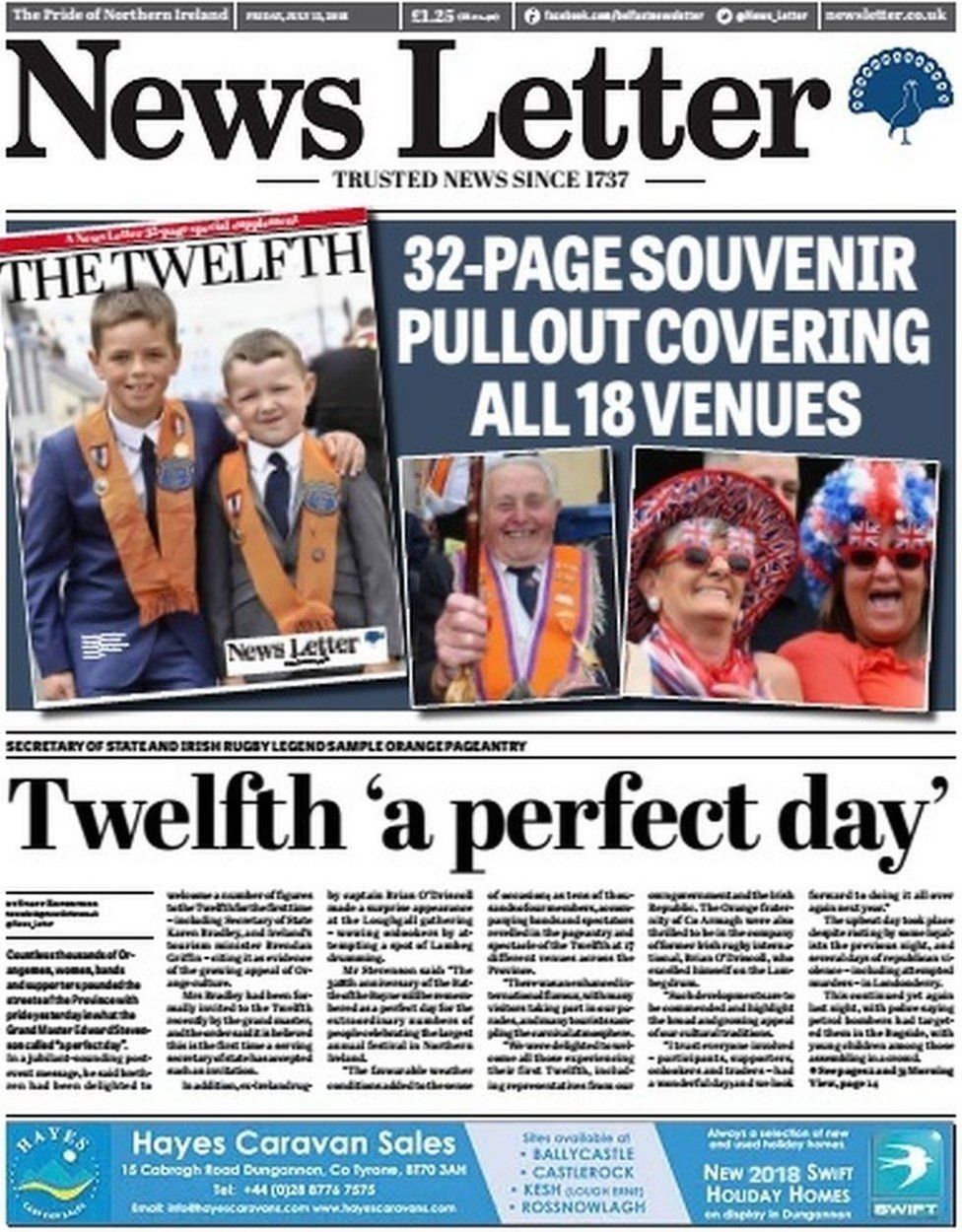 "This is the riot I didn't think I would be at today."
The words of a policeman deployed to a public order incident in Belfast on 12 July, but instead of a contentious parade or bonfire - it was a toy shop.
Crowds descended on the Victoria Square shop as the company offered a "pay your age" promotion on its stuffed toys.
Normally, the custom-made bears can cost up to £52, meaning parents of toddlers were attracted by the promise of significant savings, and many queued for hours outside the store.
However, demand far outstripped supply and something of a bear fight ensued, with reports of "punch ups" and an allegation of assault on a pregnant member of staff.
"Absolute carnage over a fluffy bear," one woman told the Telegraph, while a company spokeswoman said safety concerns forced staff to shut the shop early.
It made the city's annual Twelfth commemorations seem more like a teddy bears' picnic in comparison, with the Orange Order's Grand Master Edward Stevenson telling the News Letter it was a "perfect day".
Contentious marches, which just a few years ago had ended in riots, largely passed off without incident this time.
Although parts of Belfast and County Down had seen significant disorder and several arson attacks linked to Eleventh Night bonfires, the Twelfth appears to have had a very different atmosphere.
The Belfast Telegraph says the "joyful scenes" were in "stark contrast to the violence seen only hours before".
The News Letter says thousands enjoyed a "bumper day out" and features a photo of Orange Order Grand Secretary, the Reverend Mervyn Gibson, revving it up in a dodgem car in Newcastle.
The festivities also attracted some unexpected visitors this year.
Former Irish rugby captain Brian O'Driscoll made a surprise appearance as a Lambeg drummer in Loughgall, while in Newtownards, Karen Bradley "made history" by becoming the first serving Northern Ireland secretary of state to accept an invitation to a Twelfth parade.
In Londonderry however, the picture was very different as the city endured a sixth consecutive night of violence.
Two explosive devices were thrown at the city's walls in what the News Letter described as the second bid to kill police his week, after dissident republicans were blamed for a a gun attack on Wednesday.
It says Tánaiste (Irish deputy prime minister) Simon Coveney has expressed concern about the "escalation of violence" in Derry.
"It is shocking that young people are being allowed - and even encouraged - to engage in the dangerous activities of the past few nights," he says.
The contractors wore masks to dismantle Eleventh Night bonfires in Cluan Place and Bloomfield Walkway, after loyalists refused pleas to reduce the height of the pyres deemed dangerous by firefighters.
The Daily Mirror leads with Donald Trump's first visit to UK soil since he became US president, as the paper declares "the ego has landed".
His trip could leave the prime minister stuck between a rock and a hard Brexit, as the paper says Mr Trump "ripped into Theresa May's soft Brexit deal".
His comment came just hours before a meeting between the two leaders, where presumably the possibility of a future US-UK trade deal is likely to be discussed.
Mr Trump said the British people "voted to break it up" but Mrs May's compromise plan on leaving the EU appeared to him to be "taking a different route".
It leads with a warning from the European Parliament that Mrs May's white paper on Brexit, published on Thursday, could be vetoed if there is no deal which would prevent a hard border in Ireland.
The parliament's Brexit co-ordinator, Guy Verhofstadt, is quoted saying the EU will not agree to her proposals without a "credible" backstop.
The paper says there is still a risk that the whole deal "could be sunk over the border issue".