NI farmers urged to take more care by HSE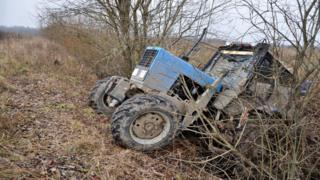 Farmers should take responsibility for their safety, the chief executive of the Health and Safety Executive for Northern Ireland (HSE NI) has said.
Keith Morrison wants more farmers to change their behaviour in an effort to prevent deaths on farms.
Seven people were killed on NI farms in 2017, and there have been two deaths in the first six months of this year.
As many as 100 people are injured on farms across Northern Ireland every month, said the HSE NI.
Most accidents happen as a result of falls, livestock, slurry or incidents involving equipment.
Since 2013, most fatal accidents on farms in Northern Ireland have involved equipment, resulting in 14 deaths, followed by 10 incidents involving animals.
Most of the 33 people killed since 2013 have been farmers older than 65, although two have been children.
'Stop and think safe'
While the number of deaths each year had dropped from 11 in 2012, Mr Morrison said "one death on a farm is far, far too many".
Historically, farming has been the most dangerous occupation in Northern Ireland, said Mr Morrison.
While most farmers were careful, he said it was important they did not slip into an "it'll never happen to me" mentality.
"We've seen a number of fatalities around farming activity, such as construction work on farms, or more recently road incidents," he said.
The HSE NI has run a high-profile TV campaign in recent years, encouraging farmers and farm workers to "stop and think safe" when working on the farm.
This was aimed at making people more aware of the dangers, but more importantly on changing their behaviour, "to actively do something and take responsibility for their own health and their own safety", said Mr Morrison.
Monday marks the start of a week-long campaign by the HSE NI to promote farm safety.
Each day will focus on a different area, including:
Farm safety inspections
Child safety on farms
Farmers' mental health
Mr Morrison urged farmers to be proactive about farm safety, rather than waiting for tragedy to strike.
"Unfortunately, I have seen too many families that have been struck by tragedy and they've lost loved ones, and they get it," he said.
"It's moved from head knowledge to heart knowledge because they've been struck, and I can't believe that it will take a tragedy for farmers to get it from their head to their heart.
"I'm asking what will it take for them to think carefully about that and make those changes?"