Gerry Adams' house in Belfast attacked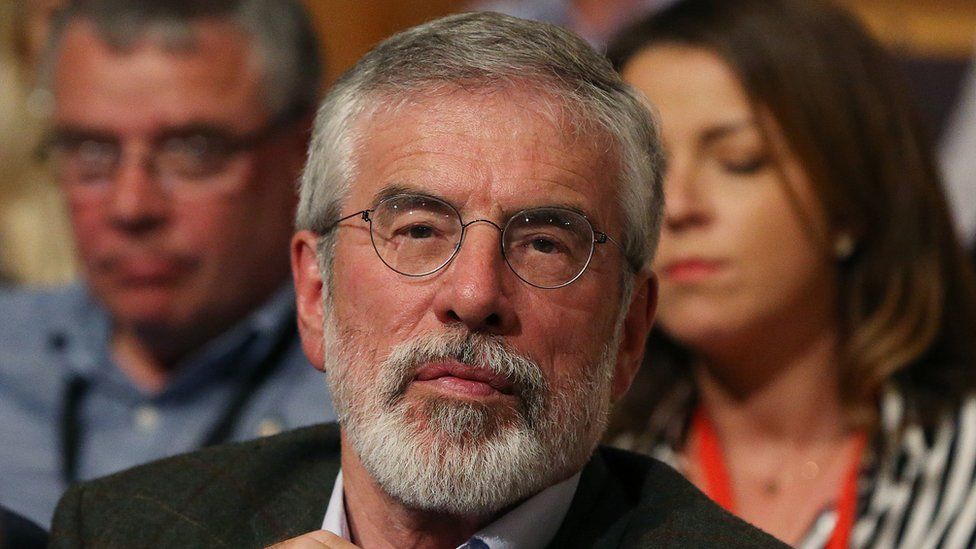 An explosive device has been thrown at former Sinn Féin leader Gerry Adams' house in west Belfast, the party has said.
In a statement the party added activist Bobby Storey's house was also attacked.
The Police Service of Northern Ireland (PSNI) confirmed that it was investigating two incidents in west Belfast.
Mr Adams, a member of parliament in the Republic of Ireland, tweeted that no-one was hurt at his house.
Sinn Féin MLA Gerry Kelly said "these were reprehensible and cowardly attacks".
"Grandchildren were in the driveway of Adams' home minutes before the attack," he added.
An explosive was also thrown at the house of Bobby Storey, a former member of the Provisional IRA.
Mr Storey was involved in the Maze Prison escape in 1983, where 38 IRA prisoners escaped from the maximum security prison.
Social Democratic and Labour Party (SDLP) leader Colum Eastwood condemned the attacks as "disgraceful".
"It is important, at moments like this, that we all stand together against those who want to drag us back to the past," he said.
"They should be left in no doubt, it will not work."
By Chris Page, Ireland correspondent
Gerry Adams has spoken several times in the past about death threats made against him - by loyalists and by dissident republicans who are opposed to the peace process.
Sinn Féin's statement about the attacks on the homes of Mr Adams and Bobby Storey doesn't explicitly pin the blame on republican splinter groups.
However, the party's reference to "increasingly desperate and irrelevant groups" firmly points in that direction - and republicans who have expressed support for Mr Adams on social media have condemned dissidents as "criminals" and "thugs".
A number of hours earlier, Mr Adams's successor as Sinn Fein President - Mary Lou McDonald - strongly denounced the dissidents who are believed to be behind recent rioting in Londonderry as "warped, negative, regressive, dangerous people".
Alliance Party leader Naomi Long said the attacks were a "deliberate and calculated attempt to cause fear and raise tensions within our community".
Over the course of Thursday 75 petrol bombs and two improvised explosives were thrown at PSNI officers.
Police accused dissident republicans of the attacks, which have taken place around the Twelfth of July parades, a frequent heightening of tensions centred around the anniversary of the Battle of the Boyne. ​
Mr Adams, 69, spent nearly 34 years at the helm of Irish republican party Sinn Féin.
During The Troubles Mr Adams survived several attempts on his life, including a 1984 gun attack by loyalist paramilitaries.
He is one of the most recognisable and controversial figures in Irish politics
Two months after the death of Martin McGuinness in 2017, Mr Adams announced he would step down as leader. He was succeeded by Mary Lou McDonald.