NI newspaper review: Adams, Meghan and a quiet space in A&E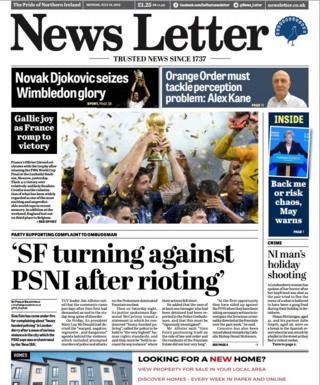 Security camera footage of an attack on Gerry Adams' home dominates most of Monday's front pages.
The Belfast Telegraph, Irish News and Daily Mirror all carry the CCTV images.
An explosive device was thrown at the former Sinn Féin president's property in west Belfast on Friday night.
Party activist Bobby Storey's house was also attacked and the PSNI said the devices thrown at both homes were believed to be "large industrial or commercial fireworks".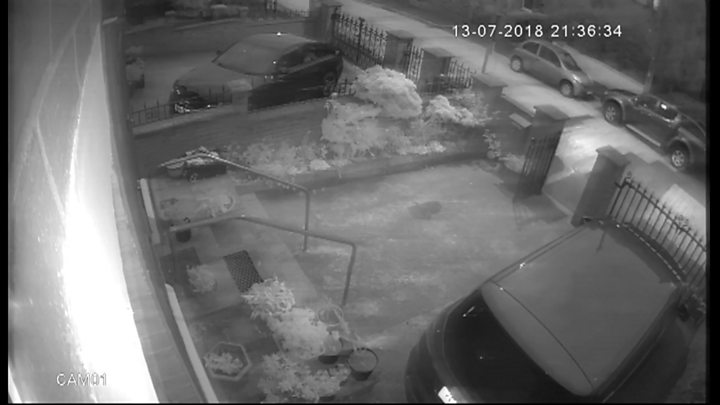 The News Letter opts to lead with claims by Sinn Féin of "heavy-handed policing" in Londonderry.
On Saturday, Raymond McCartney issued a statement which called for the PSNI to be held to "the very highest" human rights standards and said they must be "held to account" if their actions in Derry had fallen short.
Last week, a number of police officers were injured in what was one of the worst periods of violence in the city for years.
Over six consecutive nights of rioting, shots were fired at police and scores of petrol bombs were thrown, resulting in police firing plastic baton rounds on Thursday night.
Police have said the dissident republican group, known as the New IRA, orchestrated the violence.
The News Letter reports that TUV leader Jim Allister said: "Sinn Féin's positioning itself on the side of law and order and the residents of the Fountain Estate did not last very long."
Both the Irish News and the News Letter also report that DUP MP Gregory Campbell has criticised Catholic bishop Donal McKeown, claiming he gave a "rationale" for those behind the disorder in Derry.
Bishop McKeown said more needed to be done to support the young people who were involved in the disturbances in the city.
The paper also reports on a story, first published in the Derry Journal, that a local man was injured in a gang shooting in Benidorm.
Shaun McGavigan's partner, Julie Smyth, said: "We were in the New Town having a drink and I was a bit tired. We just got up and started to walk down the street and then this big fight just happened.
"There were 20 to 30 people fighting. They were fighting like animals. They were throwing chairs at each other and we started to run down the street.
"We then heard four shots and the second one hit Shaun on the leg."
Are you related to royalty?
The Belfast Telegraph ponders 'Why Meghan Markle's cousins could be walking the streets of Belfast'.
They quote leading genealogist Lorna Maloney who predicted that the Public Record Office can expect a surge in enquiries relating to the Duchess of Sussex's family.
Meghan was presented with documents outlining her Irish ancestry during her visit to the Republic of Ireland along with her new husband, Prince Harry, last week.
Meghan's great, great, great grandmother Mary McCue, from Belfast, married an English soldier in Dublin in 1860.
The pioneering Bangor nurse
The Irish News carries a lovely story on 'Sister Jo', an award-winning senior nurse at the Ulster Hospital who is helping to reduce trauma for patients with autism in Emergency Departments.
Joanne McConnell, who has two autistic sons, realised there was a lack of awareness and provision for dealing with such patients in Emergency Departments.
"It was a busy night with over 100 patients in the department and a mother came with her 16-year-old son who had no physical disability," said Mrs McConnell.
"He couldn't cope but she said he wanted to come to hospital. She was really worried as he had become completely disengaged with school, with his friends. She wanted to know it was his autism or if it was something physical.
"I had nowhere to put him. Every space was taken."
This inspired her to create Northern Ireland's first Emergency Department quiet space for patients with autism.
She found a store room within the hospital, put in foam mats and bean bags, covered it in stickers and, with the backing of staff, opened the room.
"It's not so much about the waiting time - it's more about the fact they are not in a noisy, busy environment."
The Daily Mirror celebrates a successful first year of our "flying doctors".
It reports that the Maze-based air ambulance has been dispatched 297 times in the last year.
The charity service's crew is now up to seven paramedics and 15 doctors.
On average, they deal with one or two calls every day, in conjunction with the Northern Ireland Ambulance Service.
De ja Blue
All of the local newspapers have devoted their back pages to the World Cup final.
France beat Croatia 4-2 in a thrilling game in Moscow.
It has been a two-year road to redemption for France and coach Didier Deschamps after the disappointment of losing the final of Euro 2016 to Portugal in Paris.
It was France's second World Cup victory and made Deschamps, who captained them 20 years ago, the third man to win the competition as a player and coach.