Lack of NI Executive 'a strategic risk', says Irish government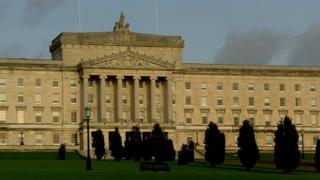 The Irish government has said instability in Northern Ireland is one of the major strategic risks facing the country.
The details are in the National Risk Assessment, an annual study produced by the Dublin government.
It says the lack of a NI Executive has led to "a tangible slowdown in North South engagement at political level".
Other major risks identified include Brexit, economic overheating and the impacts of climate change.
It says that Brexit has added to "a challenging environment for the peace process".
"The inability of the Northern parties to reach a compromise on contested issues during the talks process would suggest a period of political instability is ahead," the assessment said.
Northern Ireland has been without a devolved government since January 2017, when a coalition led by the DUP and Sinn Féin collapsed.