CCEA threats linked to Keady school exams investigation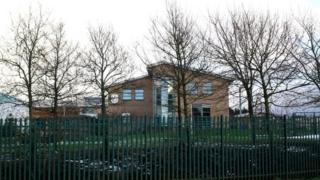 A threat to a staff member at Northern Ireland's exams body was connected to an exam malpractice investigation at a County Armagh school.
The Council for the Curriculum, Examinations and Assessment (CCEA) had revealed the threat earlier this month.
BBC News NI understands it was made in connection with an ongoing CCEA inquiry into St Patrick's High School, Keady.
Police are investigating "a number of letters of harassment" sent to staff and others not employed by the school.
It is also understood that a threat was made in writing against the safety of the staff member at CCEA and their children, who were named.
The staff member was also warned that members of a paramilitary organisation supported those making the threat.
In a related development, the PSNI has also written to all staff at St Patrick's High School.
"Police in Armagh are currently conducting an investigation into a number of letters of harassment which have been sent to staff members with St Patrick's High School, Keady," said the PSNI letter.
"The current investigation has now broadened and similar type letters have been sent to persons who are not employed by the school.
"We are actively investigating these serious matters and the offences involved include harassment, threat to commit violence, fraud and intimidation."
Denial of involvement
The PSNI also said that the letters sent to those not employed in the school - like those previously sent to staff members - had been signed: "St Patrick's High School INTO members".
However, the Irish National Teachers' Organisation (INTO) said it was "unequivocal" in its denial of any involvement with the letters.
The INTO's Mark McTaggart said anyone with information about who wrote the letters should come forward.
"INTO unreservedly condemns any threat to harm education workers or their families," he said.
"INTO has sought at every opportunity to assist the school authorities, and the CCMS, to bring it to an end.
"INTO is urging anyone with information, which could identify the writer or writers, to bring their information to the attention of the appropriate authorities."
A CCEA investigation had previously found evidence of exam cheating at the school.
However, BBC News NI understands that an appeals process related to that investigation is still ongoing.
CCEA can only recommend sanctions regarding exam malpractice.
Any further disciplinary action following the conclusion of the CCEA investigation would be a matter for the school's board of governors and the Council for Catholic Maintained Schools (CCMS).