NI weekly paper review: Game of Thrones castle and 'gas leak'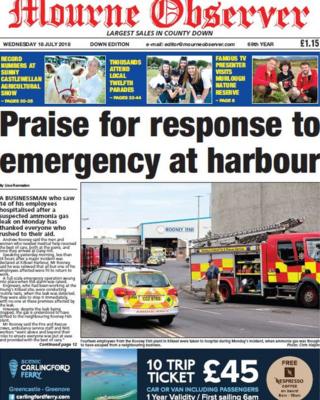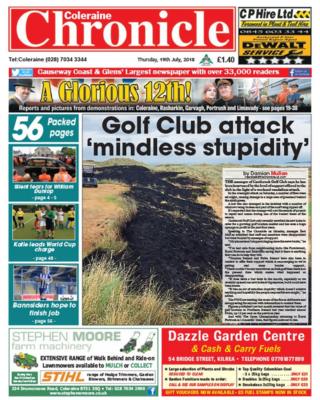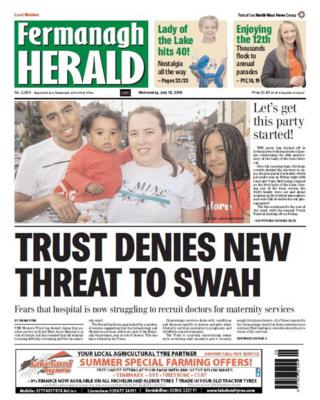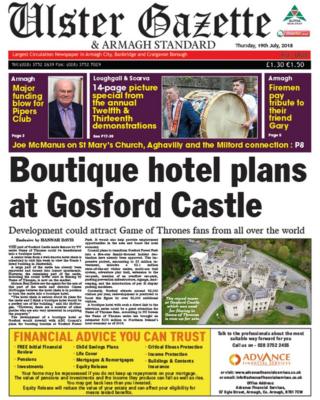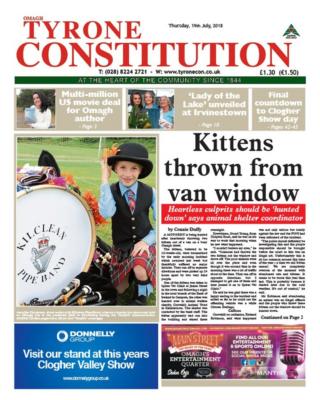 A suspected ammonia gas leak, an arson attack on a golf club, and the potential transformation of a Game of Thrones castle all feature in Northern Ireland's weekly papers.
A businessman who saw 14 of his employees hospitalised after a suspected ammonia gas leak makes the front page of the Mourne Observer.
Emergency services attended the scene at Young's Seafood processing factory in Kilkeel, County Down, after engineers discovered the leak.
Andrew Rooney, who runs the neighbouring Rooney Fish, thanked the medical staff who treated his workers.
Mr Rooney said the Northern Ireland Fire and Rescue Service, ambulance service and the NHS "went above and beyond their roles to ensure everyone was put at ease and provided with the best of care".
Inside the newspaper, there are reports about the alleged theft of union flags from houses in the Mourne area.
DUP councillor Glyn Hanna said there had been "total disrespect for people's property" for a second consecutive year.
"Many people have contacted me from throughout Mourne after their flags have been taken down by unknown people," he said.
"Eleaston Park in Kilkeel is a good example of flags being removed from people's homes.
"I believe this infringes on people's right to celebrate and express their culture, and British identity."
An arson attack at Castlerock Golf Club makes the front page of the Coleraine Chronicle, with its manager Bert McKay describing it as an act of "mindless stupidity".
The newspaper says a number of fires were set alight during the incident last weekend causing damage to a large area of grassland behind the ninth green.
A hut was also damaged, with a number of windows being broken and part of the roof being ripped off.
It is expected that the damage will cost thousands of pounds to repair.
Mr McKay said the attack left "a bad taste in the mouth", and that despite the disappointment felt by staff and members, they were buoyed by messages of support from neighbouring golf clubs.
'Great sportsman'
The funeral of County Antrim road racer William Dunlop features across a number of pages in the Ballymoney and Moyle Times.
Mr Dunlop, a member of road racing's renowned Dunlop family, died following a crash during practice at the Skerries 100 road races in County Dublin, earlier this month.
The newspaper says thousands of mourners at his funeral in Garryduff Presbyterian Church heard William hailed as a great sportsman who had a "smooth style on the track and a gracious and thoughtful manner off it".
Rev John Kirkpatrick reflected on also having led the funeral of William's father Robert, who died in a crash during practice for the North West 200 in 2008.
He said:"William watched and learned from Robert and his life developed those same qualities, and although his life has been shorter than many and certainly shorter than we hoped, the one he chose to live was not dull but full."
Recruitment drive
On the front page of the Fermanagh Herald, the Western Trust denies claims that gynaecology and obstetrics services at South West Acute Hospital are at risk of closure.
The newspaper reports that in September last year, proposals suggested another maternity service - the neo-natal unit - was under threat of closure. However, this did not happen.
The newspaper reports that while the trust refuted the claims about the gynaecology and obstetrics services, it said it was experiencing issues with recruiting staff.
The trust recently sought 19 trainee doctors, 12 of which were required for the gynaecology ward, but the positions have not been filled.
'Game of Thrones hotel'
A County Armagh castle made famous by Game of Thrones is the lead story in the Ulster Gazette.
The newspaper reports that "a well-known hotel chain" is interested in turning Gosford Castle into a boutique hotel.
A large part of the castle has already been transformed into luxury apartments, but the remainder is now up for sale for £500,000, including the round tower.
The tower was used in the filming of popular HBO series Game of Thrones.
It attracts about 62,000 visitors a year, and the potential redevelopment is predicted to boost that figure to more than 155,000.
The Ulster Gazette quotes Ciaran McGurgan, director of Maison Real Estate, agents for the sale.
"The hotel chain is serious about its plans for the castle and I think a boutique hotel at Gosford would be a perfect use of the building," he said.
"However, there are a number of other parties who are also very interested in acquiring the property."
The newspaper also pays tribute to Gary Hamilton, 27, who was killed in a motorbike accident.
The firefighter, from Armagh, died following a collision on the Castlewellan Road in Banbridge, County Down.
He was a third generation firefighter and, speaking at Mr Hamilton's requiem mass in St Patrick's Cathedral, his colleague Declan said that if there was a gorse fire to be put out, "he would be the first man to put his tally up".
Kittens discarded
Meanwhile in County Tyrone, two kittens were thrown out of a van window onto a busy street in Omagh, the Tyrone Constitution reports on its front page.
"I couldn't believe my eyes," said Stuart Young, who was on his way to work when the alleged incident took place.
"Someone had thrown the two kittens out the window and driven off. The poor animals were all over the place and, even though it was around 6am in the morning, there was a lot of traffic about at the time."
Mr Young told the newspaper that the kittens were thrown from a white Citroen Berlingo.