Bangor police seize 'hoax bomb' log burner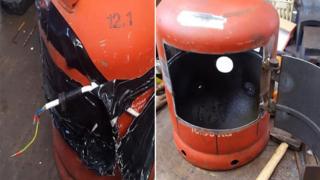 Police have warned the public not to touch suspicious objects after a County Down man said he converted a hoax bomb he found into a log burner.
John-Joe Kelly said he found the suspicious device on the side of the Belfast-to-Bangor Road on 13 July.
Convinced the gas cylinder with wires attached was not a real bomb, he said he removed it to "save everyone the hassle of a road closure".
It followed a number of security alerts in North Down on 11 and 12 July.
The engineer told BBC News NI he believed the object "only posed a realistic threat to the high speed traffic on the road".
By removing it from the road, the 28-year-old figured he could make a log burner whilst "saving thousands of people a traffic nightmare at 17:00 on a Friday".
But after posting photos about the episode on social media last Friday, Mr Kelly received a visit from the PSNI, which has now seized the cylinder for forensic examination.
Writing on Facebook after being interviewed by police on Monday, Mr Kelly said: "Well, it turns out that removing hoax bombs from public roads before the police get there is kinda frowned upon by the PSNI.
"They paid me a visit today and took it all away for forensic testing... although I must say it was a friendly event and they seemed to appreciate the funny side of it lol."
Mr Kelly said he had nearly finished converting the device into a "camper-style log burner".
"Instead of smoking away and keeping people warm at a garden party, it now resides in the PSNI forensic science lab," he wrote.
Mr Kelly, who admitted to being a practical joker, said the "grim" political landscape in Northern Ireland has "always proven to be a great narrative for comedy".
He said a predominantly light-hearted reaction to his social media post proved that "the vast majority of the people here don't support and don't share the backwards motives of the people who place such devices".
But in a statement the PSNI said: "If any member of the public comes across what they believe to be a suspicious object, they should never lift or touch it.
"They should phone the police immediately."