Make bonfire removal costs public say Alliance and Greens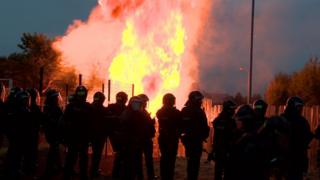 The cost of dismantling two bonfires in east Belfast should be made public, the Alliance Party and Green Party have said.
The Department for Infrastructure said on Tuesday that the bill would be kept confidential.
It was confirmed the bill will be met by the department and Belfast City Council.
Sinn Féin is expected to comment on the issue later on Wednesday.
Calls for the department to change its policy have come from Green Party leader Steven Agnew and Michael Long, the Alliance Party's leader on Belfast City Council.
A convoy of vehicles was hired and a team of workers - who all wore masks to hide their identity - were paid to remove the bonfire material from Bloomfield Walkway and Cluan Place.
At the same time, dozens of armed police stood guard and, at one stage, a main road in east Belfast was closed to traffic.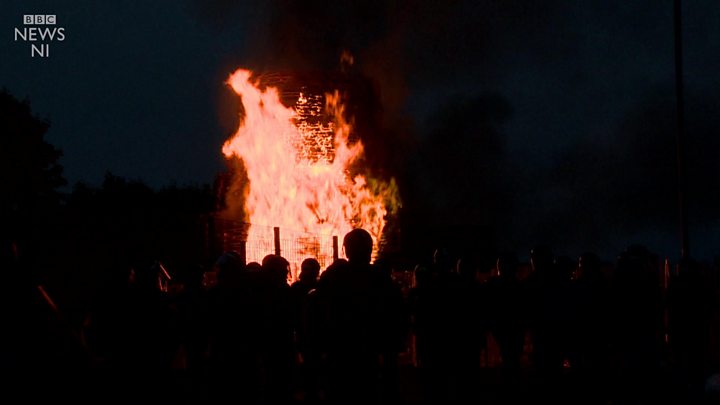 The Department of Infrastructure confirmed on Tuesday that it would be covering most of the cost, but refused to give any details.
"Contractor rates are commercial in confidence and therefore we are unable to provide the cost details requested," a spokesperson said.
"The department is in discussion with Belfast City Council regarding the apportionment of their contractor's costs for removing bonfire material from the Bloomfield Walkway.
"However, as the department is the landowner at Bloomfield Walkway, it is likely to cover a significant proportion.
"The department will pay in full for the removal of materials at Cluan Place."
Material was removed from the Bloomfield bonfire earlier this month after a high court ruling.
No details have yet been released about the cost of that hearing.
A judge directed the Department for Infrastructure to take immediate action, amid claims the 80-pallet-high construction at Bloomfield Walkway posed a serious threat to surrounding homes.
The bonfire was set on fire just as contractors moved in to try to dismantle it.
The Cluan Place bonfire was dismantled after the Northern Ireland Fire Service raised concerns over its proximity to property.