LGBT charity offices burgled in Belfast city centre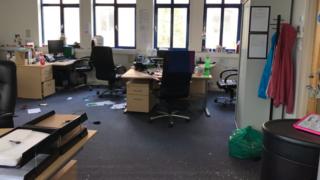 A number of laptops have been stolen in a burglary at an LGBT charity's Belfast offices overnight.
The Rainbow Project promotes the the health and wellbeing of LGBT people in Northern Ireland.
Staff at the organisation found glass panels in the doors to the office had been smashed when they arrived on Wednesday morning.
A police investigation is currently under way.
The Rainbow Project confirmed on Wednesday that appointments were cancelled for the day due to the burglary.
Policy Manager, Gavin Boyd, told BBC News NI that the laptops stolen from the office were "encrypted and client data has not been compromised".
He said: "No data is stored on our laptops it's all stored on a remote server which has been shut down today".
Although Mr Boyd said he is not ready to make the assessment that the burglary was an act of hate crime, he did say "some staff do feel targeted because of the work of the organisation and our client group".
He added: "We want to reassure people that our services are still available and our clients are still our number one priority."
The PSNI said on Wednesday: "Police are investigating a burglary at premises in Waring Street, Belfast.
"It is believed that entry was gained to the property sometime between 6.45pm on Tuesday 17th and 7.45am on Wednesday 18th July.
"Several windows were damaged and computer equipment has been reported stolen."
They are appealing for anyone who was in the area overnight or who has information to contact them.