Profile: DUP MP Ian Paisley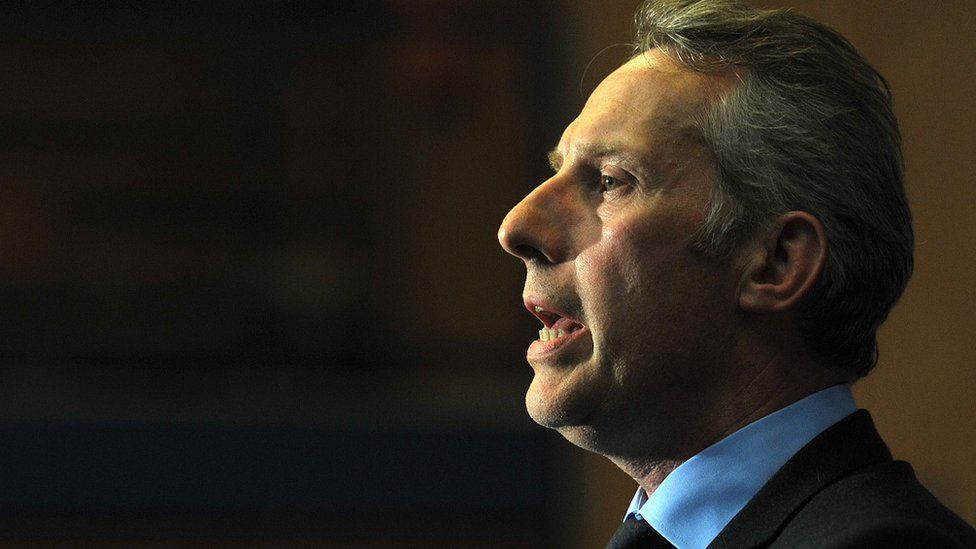 New evidence that shows Ian Paisley was given a complimentary holiday at a luxury Maldives resort months after advocating on behalf of its government is the latest chapter in a political career that has combined controversy with huge popularity at the ballot box.
The evidence obtained by BBC Spotlight comes months after Mr Paisley was sanctioned for breaking parliamentary rules after failing to declare two family holidays paid for by the Sri Lankan government.
That led to him being suspended from the House of Commons for 30 days, but he did not face a by-election after fewer than 10% of his constituents signed a recall petition.
He hailed the result of the petition as a "miracle". On his return to the commons he said: "A smaller man than me would have crumbled."
The youngest child of Democratic Unionist Party (DUP) founder Ian Paisley, Ian Paisley Jr entered elected politics in 1996 and took over as MP for his father's former North Antrim constituency in 2010.
But controversy - whether surrounding his views on homosexuality or allegations of lobbying on a £50m government land deal - has never been far away.
The youngest of five children, Mr Paisley's interest in unionist politics was evident long before his election to the Northern Ireland Forum in 1996.
After attending Shaftesbury House College and Methodist College Belfast, he studied modern history and Irish politics at Queen's University Belfast.
During his time as a student, he made a very public demonstration against the dropping of God Save the Queen from graduation ceremonies.
He and Peter Weir, now a DUP colleague, stood during the ceremony and played the British national anthem on a small tape recorder.
In 1998, he was elected to the new Northern Ireland Assembly, easing home on the second count behind his father, who topped the poll.
In 2007, on the same day his father became first minister of Northern Ireland, he was appointed a junior minister in the devolved administration.
Mr Paisley's personal views have been the subject of criticism, particularly his opinions on homosexuality.
In 2005 he was formally censured by the Northern Ireland Policing Board for describing homosexual relationships as "immoral, offensive and obnoxious."
In 2011, Mr Paisley said his views had changed: He told The House magazine that he had "grown up" since those comments.
"I have huge respect for people no matter what their religious and social background," he said.
"I think I have grown up since then. I have strong Christian beliefs and moral viewpoints, but you have to realise that while sin is black and white, life is a lot of grey."
But the controversies have done nothing to damage his popularity with voters in North Antrim.
In 2010, he was elected as the MP for the constituency and has been re-elected twice since then. At the 2017 general election he cruised to victory with 59% of the vote.
Following his censure over failing to declare details of his Sri Lankan holidays, many constituents told the BBC they remained supportive of the father-of-four, who has been married to paediatric nurse Fiona since 1990.
Along with a passion for motorbikes, he lists his interests in Who's Who as his children, Chinese food, cinema and rugby.
Despite being the son of the DUP's founder, Mr Paisley has not felt constrained to toe the party line on all occasions.
He told BBC NI's The View programme he wanted to thank former IRA commander Mr McGuinness, who struck a historic power-sharing deal with his father in 2007.
His profile was raised after last year's DUP-Conservative deal, and he has been a strong supporter of Brexit, and US President Donald Trump.
During the annual St Patrick's Day celebrations at the White House, Mr Paisley tweeted that he was the "only person from NI to be invited to a private family reception".
He later deleted the comment and apologised, saying he had "did not take cognisance of Ramadan reference".
That apology was followed by an emotional statement in the House of Commons in which he admitted a "deep personal embarrassment" following the Sri Lankan holiday rule breach.
When asked about the trip to the Maldives, Mr Paisley said the Government of the Maldives did not organise or pay for the "family vacation" in 2016 and that he was satisfied it did not have to be registered with parliamentary authorities.