Aerospace firms fear bumpy Brexit landing
By Julian O'Neill
BBC News NI Business Correspondent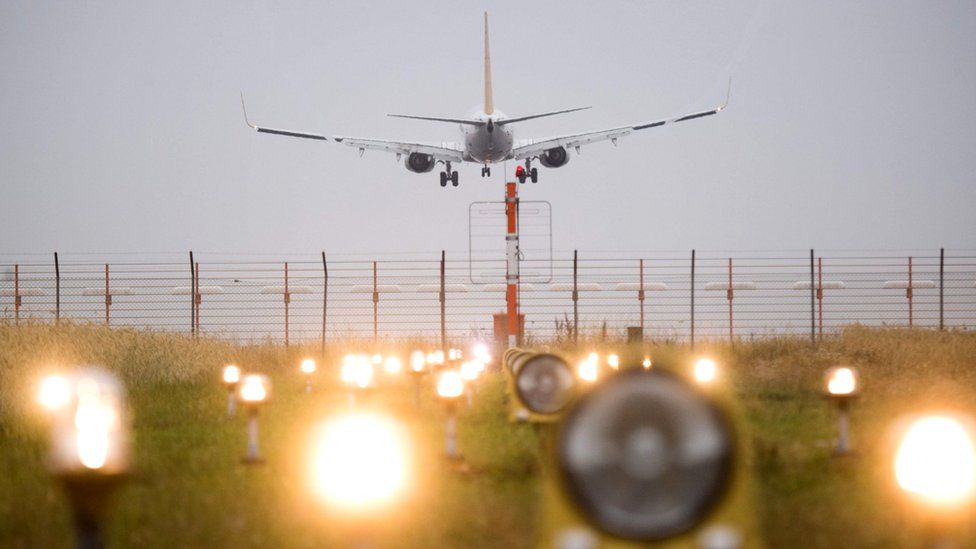 Northern Ireland's aerospace firms feel Brexit uncertainty needs to end, as they lobby for a deal to keep the sector aligned with EU regulations.
One company says it is already missing out on a chance to work with Airbus.
Businesses are at the Farnborough Air Show trying to find new customers, but discussion about the UK's exit from the EU is never far away.
The sector employs some 10,000 people in Northern Ireland and is worth about £1.5bn to its economy.
Resonate Testing, a small firm based in Newry, tests aircraft components from jet engines to fire-retardant material on seat covers.
General Manager Michael Thompson says the company would like to grow by getting into the supply chain for Airbus, the French plane-making giant.
But he notes Airbus is taking a wait-and-see approach to how Brexit pans out - and whether the UK's departure from the European Union will make the movement of parts across borders more difficult.
"They are starting to limit UK suppliers because they are concerned," said Mr Thompson.
"That has a knock-on impact to potential suppliers like us who want to register with Airbus.
"There is a hands-off approach at the minute, so that removes an opportunity we would have liked to pursue."
Northern Ireland companies, along with counterparts in Great Britain, are lobbying for a Brexit deal that includes continued EU membership of the European Aviation Safety Agency.
It issues safety approvals for aircraft and parts.
The sector says breaking with its common guidelines would create massive problems.
The government's white paper on future relations with the EU acknowledges this and wants to maintain free trade on goods and rules on product standards.
"I think the aerospace sector has considerable influence," said John Irwin, general manager of Denroy Plastics in Bangor, a supplier to Bombardier.
"It has the ear of government and I think the deal will be done that will protect the aerospace sector."
But Westminster politics is causing turbulence and companies have buckled up for a bumpy ride.
Uncertainty has not gone away and the stakes are sky high.