DUP MP Ian Paisley's in his own words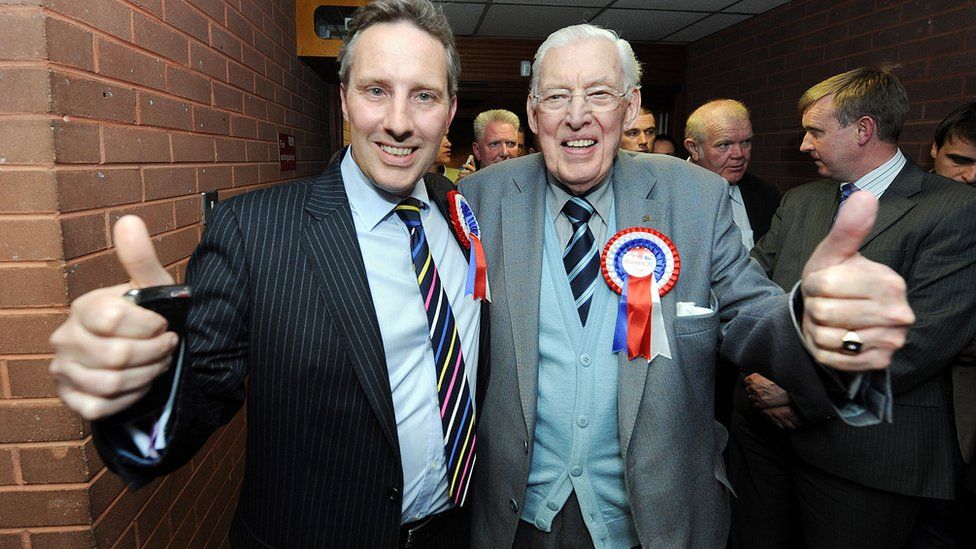 Ian Paisley, who was given a complimentary holiday at a luxury Maldives resort months after advocating on behalf of its government, has often been outspoken during a political career spanning more than 20 years.
The MP was recently suspended from the House of Commons for 30 days for "serious misconduct" for failing to declare two family holidays to Sri Lanka in 2013.
BBC Spotlight obtained evidence which suggested the Maldives visit was requested by the Maldivian government and facilitated by the resort owner, who had political links.
His comments on other issues have at times come in for criticism from opponents.
On Theresa May's Brexit deal vote
Ahead of the planned vote on Theresa May's Brexit withdrawal agreement, Ian Paisley articulated his views on the debate in controversial terms.
"Nothing focuses the mind like a hanging," he said.
His remarks, which were based on a quote from the 18th century writer Samuel Johnson, caused controversy. Northern Ireland Secretary Karen Bradley, said she would not use such language.
On retaining his seat as an MP
Ian Paisley did not face a by-election after fewer than 10% of his constituents signed a recall petition, which had been triggered after he was suspended from Westminster for failing to declare two holidays paid for by the Sri Lankan government.
"I think it was a miracle. 90.6% said: 'We are keeping you, big fella. We like you.'
"I would like to thank my true friends, family, the electorate who have stood by me with unwavering support. Hallelujah."
After it was announced he would not face a by-election following the Sri Lanka scandal, Mr Paisley was asked by BBC News NI Political Correspondent Gareth Gordon: "Is there anything else in the pipeline that you're worried about coming out that may do for Ian Paisley?"
He replied: "No I certainly am not. Certainly am not, no.
"Nothing at all. I mean that was a genuine mistake on my part, I made a mistake and I apologised for it and I was punished for it."
On same-sex relationships
Upon learning that former First Minister of Northern Ireland David Trimble had a gay aide who married his partner in 2005, Ian Paisley expressed his disapproval of same-sex relationships.
"It is really astounding that David Trimble should have had a man such as this giving him advice - and must surely cast grave doubts on his own political judgement."
"I think these sorts of relationships are immoral, offensive and obnoxious."
Speaking to Ireland's Hot Press magazine in 2007, the son of the founder of the DUP was quoted as saying he thought same-sex relationships were "wrong".
"I am pretty repulsed by gay and lesbianism. I think it is wrong. I think that those people harm themselves and - without caring about it - harm society."
"That doesn't mean to say that I hate them - I mean, I hate what they do."
In November 2016, Ian Paisley spoke to BBC Radio 5 Live about his relationship with Donald Trump who he said he has known since 2006.
He said he had regular contact with Mr Trump during his presidential campaign.
"I admire the man. He wants to contribute and he wants to put something back and I think that he has obviously put a huge degree of effort into this."
"In 30 years from now when this period of our time is being taught about in history classes, this will be the 2016 year of revolution."
In the aftermath of the high profile trial of rugby players Paddy Jackson and Stuart Olding , Mr Paisley argued that people on trial for rape should not be identified unless found guilty.
"It is clear now - more than it has ever been - that a change to the law is required for rape trials. No party should be identified in advance of the verdict and only then when there is a guilty verdict."
"The notoriety caused by such publicity has a negative impact on the process of justice and lasting consequences for those involved."
Mr Jackson and Mr Olding were both found not guilty.
Mr Paisley said he only "glanced" at the tweet and did not take "cognisance" of the Ramadan reference.
After deleting the tweet, he apologised and told BBC Radio Ulster's Talkback programme he had spoken to members of the Islamic community in Belfast "and expressed to them my sincere and profuse apology".
In June 2018, the North Antrim MP spoke out on Twitter against campaigners calling for abortion law in Northern Ireland to be liberalised.
"The real agenda is to remove the offences against the people act to make abortion available right to point of birth in GB. NI being used as a convenient footstool!".