PM begins two-day visit to NI in Belleek, Fermanagh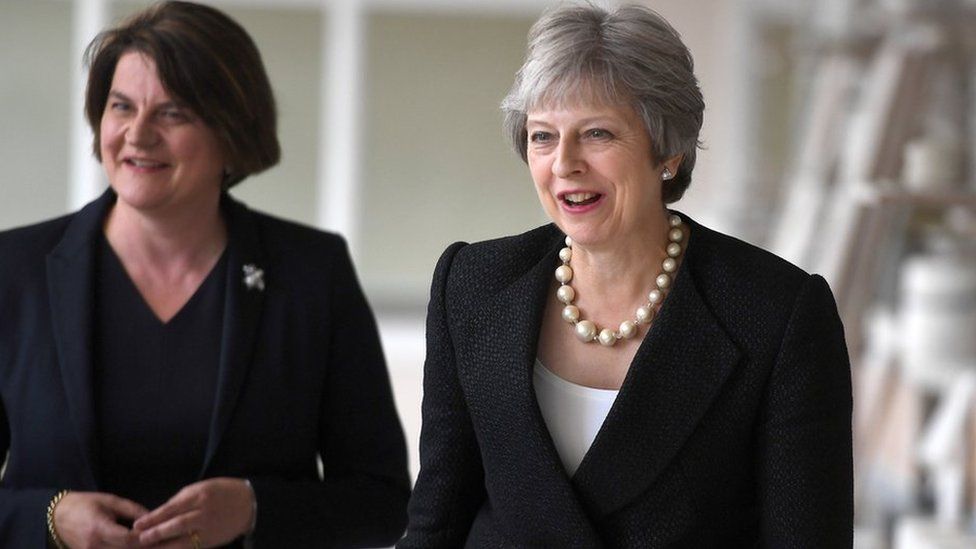 The prime minister has begun a two-day visit to Northern Ireland in Belleek, County Fermanagh.
It is Theresa May's first appearance on the Irish border since the Brexit referendum.
She is speaking to businesses along the border and talking to political leaders about the deadlock at Stormont.
The government's White Paper on Brexit has promised to maintain a frictionless border on the island of Ireland.
The sticking point in the EU-UK negotiations, so far, has been around the proposed customs backstop - an arrangement that will apply to the Irish border after Brexit, if a wider deal or technological solution cannot keep it as frictionless as it is now.
During her visit, the prime minister is also due to speak to young people in Belfast about Northern Ireland's future.
Mrs May said she looked forward to hearing from cross-border businesses about Brexit.
"I fully recognise how their livelihoods, families and friends rely on the ability to move freely across the border to trade, live and work on a daily basis," she said.
"That's why we have ruled out any kind of hard border. Daily journeys will continue to be seamless and there will be no checks or infrastructure at the border to get in the way of this."
DUP leader Arlene Foster welcomed the prime minister to Fermanagh, saying Mrs May will hear "how people see both challenges and opportunities for their sectors as we leave the EU".
Mrs Foster said her party wants "a sensible exit from the EU" that works for the UK, Northern Ireland and the Republic of Ireland.
"That must mean that our national parliament takes back control of our laws, borders and money and that there are no new internal barriers created inside the United Kingdom," she added.
Delighted to welcome the Prime Minister to Fermanagh & S. Tyrone - the most western constituency in the United Kingdom. Great discussion earlier with people who live and work on the border. . . Having dinner on the banks of Lough Erne - that's RoI just across the water. pic.twitter.com/TF0GhX7SNz

— Arlene Foster (@DUPleader) July 19, 2018
Analysis by Louise Cullen, BBC News NI South West reporter
There was a smattering of applause as Theresa May got out of her car at Belleek Pottery.
All day, security had been building in the border village in anticipation of her arrival.
She is meeting local business people to hear their concerns about what Brexit may mean in this village where the border crossings happen countless times every day.
Postmistress and shop owner Michelle Gallagher said she hoped to give the PM a copy of the Belleek calendar for next year, which contains the details of all the local businesses.
Sinn Féin's Michelle O'Neill said Mrs May's visit to the Irish border was long overdue.
Speaking ahead of her arrival, Mrs O'Neill accused the prime minister of attempting to renege on the commitments she made in December.
"Two years on from the Brexit Referendum and Theresa May has finally decided to make a visit to a border constituency.
"She will hear at first hand the catastrophic implications for our economy, our rights and our future. The fears that businesses have for their future survival. The justified fears of individuals in relation to the diminution of their rights.
"She will hear the dismay and alarm that exists here in this community."