Owner of buried wedding ring found after online appeal
By Ciaran McCauley
BBC News NI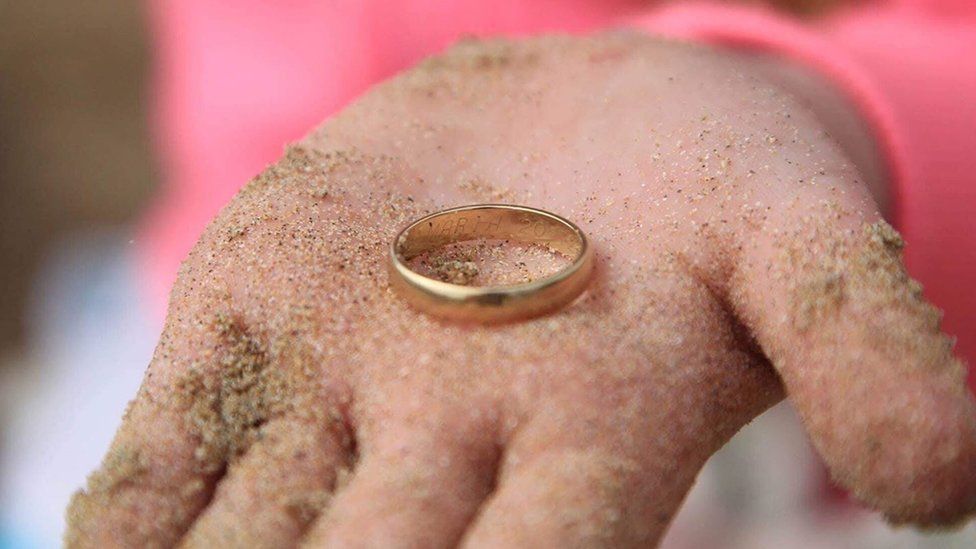 Sunshine, sandcastles - and an unlikely social media search for a lost wedding ring engraved with the name of an Olympian?
It's not exactly the recipe for an ordinary summer day out.
When Ann Busch, and her daughters Lola, six, and Maisie, three, were digging their spades into the sand at Portsalon, County Donegal, the last thing they expected to find was actual treasure - a wedding ring engraved only with a date and the name Maria.
But this less-than-ordinary day was to have a brilliant ending, thanks to a Facebook appeal that went around the world but managed to find the ring's owner a lot closer to home.
"We were literally digging sandcastles and the ring just popped up," said Ann, who lives in Lisburn, County Antrim.
"The girls were all very excited about what it was."
But who had lost it? Ann knew finding the unlucky spouse would be almost impossible.
But with a name and a date engraved there was always a chance.
She asked around a few local businesses - did they know a Maria or recognise the date? But there was no success.
It was time for the internet to do its thing.
"After we came home from Donegal, I decided I'd put it up on Facebook. It just seemed to take off."
"A lot of people got in touch wondering if it was a ring they had lost in Portsalon - it seems there's loads of lost rings in this part of the world," she added.
Pro tip: Put your wedding band somewhere safe before visiting a County Donegal beach.
Despite these early promising leads, it seemed the appeal might not succeed.
But then a man got in touch with Ann - he knew the name and recognised the date. This was his brother-in-law's wedding ring, he said.
A ring that, as far as Gary Crossan was concerned, was long gone.
"I just thought I would never see it again - and then my brother-in-law tagged me on Facebook", Gary said.
"It was such a really nice feeling, to go from thinking it was gone to seeing it again. And I probably would never have seen it if it wasn't for my brother-in-law spotting it online."
It was just three weeks ago, on 29 June, that Gary came out of the Atlantic Ocean and realised the ring was missing.
After realising the ring was gone, Gary had two thoughts - it was either lying somewhere on the vast beach (very, very bad) or in the sea (worse).
"My fingers do tend to get smaller when I swim and when I came out I realised it was gone," he said.
"Before I went in, I had been all over the beach, down to the pier and back - so it could've been anywhere.
"It's a sandy beach. I just thought I was never going to see it again."
Still, Gary and his group spent some time scouring the sands - but no luck.
Maria and Gary had been married for 15 years and Gary had never lost his wedding ring until that day.
"I'm usually so aware of it when I'm swimming or coming out of a pool," he said.
"There was nothing much that could be said about it. It was an accident. I was disappointed but I just thought it was gone.
"It's not at all valuable, but obviously has a lot of sentimental value."
Gary, who is based in Dublin but is originally from Letterkenny in County Donegal, returned home without much hope. Until social media intervened.
Now, Ann will be posting the ring back to its rightful owner as soon as she and her family return from Donegal.
"I just couldn't believe it got such a big response on Facebook. I was getting notifications popping up every day, it was going viral," she said, with a laugh.
"But it's great to be able to find the owner and return it."