Ballymena United anger over race car pitch damage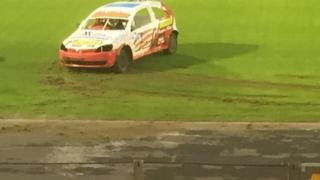 A council "must be held responsible" after race cars drove over a brand new football pitch costing thousands of pounds, an Irish League club has said.
Ballymena United said it was "saddened" at the incident during a stock car race at the Ballymena Showgrounds on Friday.
The venue is owned by Mid and East Antrim Borough Council, which recently laid a new pitch after a major investment.
It said it was "deeply disappointed" by the incident.
The council spokesman said that "measures put in place to protect the new surface were inadequate" and that remedial work was being carried out on the pitch on Saturday.
The incident happened during a Ballymena Raceway stock car event on Friday night. The council leases the stadium to both the football club and Ballymena Raceway.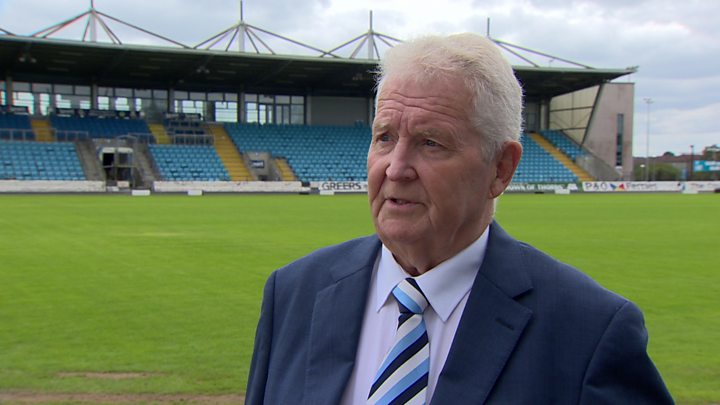 Ballymena United's vice-chairman Don Stirling told BBC News NI that "stock cars have every right to be there" but the two sports are "just not compatible".
"I honestly don't know what the solution is, but the council have to be held responsible," he said.
"They can't keep cars off the pitch because if they veer off the track they have nowhere to go.
"They put down truck tyres (on Friday night) but they would have need massive tractor tyres to stop cars coming on the pitch."
Mr Stirling said the new pitch had cost £250,000 and that the club had agreed to postpone any home games until 6 October so the new pitch could bed in.
"They've spent over £250,000 of ratepayers' money on it, there's a new sprinkler system as well. They can't have cars driving over it.
"Ballymena United have one of the best facilities in Northern Ireland outside of Windsor Park - we just don't have the bit in the middle you play on.
"In the past, referees have come close to calling off matches because there are tracks all over the pitch. Even oil spills."
Tension between the stock car races and football club previously emerged in January, when Ballymena United manager David Jeffrey accused race organisers of a lack of respect after the pitch was damaged during a New Year's Day event.
However, Aubrey Arbuthnot, who runs Ballymena Raceway, told BBC News NI he was "fed up" with criticism directed at the race events and that he had done as much as he could to keep cars off the pitch.
"All I want is fair play. I'm a ratepayer, not like some of the people sounding off in the press," he said.
"We had 12 races last night. These cars race door handle to door handle. There's up to 60 cars racing. Only two cars went off the track in separate incidents."
Mr Arbuthnot said the council had organised and placed about 70 tyres around the track and around sprinkler heads and that he had insisted no personnel go on the pitch.
'Hammering us'
"Usually I have a clerk of the course and two photographers on the pitch. I didn't even have a fire extinguisher on the pitch.
"I laid down the law to the drivers about what would happen if they went on the pitch. The driver who went off, he was spun off by someone else - he's completely innocent.
"If I had found out who put him off, I would have put him out the gate. That's how seriously I've been taking it.
"But it's our first night back in and they're hammering us."
He added that he was unable to organise race meetings for three months during the racing season because of work going on at the Showgrounds.
"That's a number of meetings I couldn't hold. That's a loss of revenue.
"Our season runs from about Easter to the first weekend of October. There's only about five meetings that clash with the football season. That's all. They just don't want a stockcar around the place."
'Matter of urgency'
He added: "I've seen comments that I had been offered an alternative venue. That's nonsense. You think I would have turned that down? If the council offered me another venue, I'd be out tomorrow."
A spokesperson for the council: "We are deeply disappointed by last night's incident and fully appreciate and understand the frustration around this.
"Ballymena Showgrounds is a multi-use facility, enjoyed by a wide range of local sporting organisations.
"The measures put in place to protect the new surface at the venue were inadequate for last night's event.
"Remedial works are being carried out on the pitch today.
"As the owners of the venue, we are fully committed to doing all that we can to safeguard the new pitch, and we are considering a range of measures to minimise the risk of damage to the surface as a matter of urgency."