DUP meet to discuss Ian Paisley future after suspension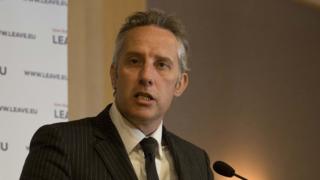 Senior members of the DUP have held a private meeting to discuss the future of North Antrim MP Ian Paisley.
It followed a recommendation that he be suspended from Westminster for 30 days after failing to declare two family holidays in 2013 paid for by the Sri Lankan government.
He later lobbied the prime minister on behalf of Sri Lanka.
The outcome of the meeting is not known, but the DUP said afterward it may issue a statement early next week.
DUP MP Sir Jeffrey Donaldson told the BBC on Saturday that his party was not going to take "a lynch mob approach".
Speaking on the Today programme, Sir Jeffrey said Mr Paisley's behaviour had been unacceptable.
But he added: "Ian is entitled to have his case heard, he is entitled to fairness.
"We are a democratic party - the clue is in our name - and this matter has been referred to our party officers.
"They will consider the report prepared by the standards committee, they will consider what has happened and they will come to a decision."
Sir Jeffrey said that Mr Paisley had apologised and acknowledged that what he had done was unacceptable.
When asked about the possibility of a by-election in Mr Paisley's constituency, triggered by his suspension, Sir Jeffrey replied: "Look, we're getting way ahead of ourselves.
"I will support whoever the DUP candidate is in North Antrim if there is a by-election and if that's Ian, and he is selected by the party, of course I will support the DUP candidate."
After his 2013 holiday, Mr Paisley wrote to the then prime minister, David Cameron, lobbying for his support of the Sri Lankan government over "a proposed United Nations resolution".
Earlier this week, he apologised in the House of Commons and admitted "deep personal embarrassment".
Choking with emotion at times, Mr Paisley said he had made a "genuine mistake".
But he has faced calls to stand down over his behaviour.
Party leader Arlene Foster told BBC News NI she had received a personal apology from Mr Paisley for the embarrassment he has caused the DUP.
When asked if he had her full support, Mrs Foster said the issue was now a matter for party officers.
His suspension from the House of Commons is due to begin on 4 September. This will deprive Prime Minister Theresa May of a vote on key Brexit issues.
The claims about Ian Paisley first appeared in the Daily Telegraph in September 2017.