K2: Irish climbers conquer peak within 24 hours of each other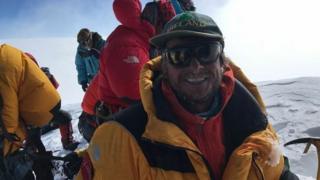 K2 has been climbed by two mountaineers from the island of Ireland in separate expeditions just 24 hours apart.
Noel Hanna became the first person from Northern Ireland, and the second from the island, to reach the peak when he climbed to the top on Saturday.
On Sunday, County Donegal man Jason Black became the third when he reached the summit.
Ger McDonnell was the first Irish man to reach the summit in 2008, but died on the climb back down.
He was one of 11 climbers who died in one of the deadliest days in mountaineering history when an ice fall swept away fixed ropes on the peak in Pakistan.
K2, known as the Savage Mountain, is considered one of the most dangerous climbs in the world.
Mr Hanna, who climbed Everest with his wife Lynne, told BBC News NI that K2 was a much bigger challenge.
"I had a few beers last night and few beers today with some fellow climbers, but, here in Pakistan, whenever you're on the mountain it's hard to celebrate," he said, in a phone call from base camp.
"If anybody was thinking of coming out to do K2, certainly you would need a lot more technical experience than you would for Everest and some of the other mountains. Summit day is a very long day."
He added: "You don't need to be crazy but probably the major factor it's the weather that has to be on your side."
Mr Hanna said the dangers of K2 were underlined when a Canadian climber died in a fall in the first couple of weeks of being at the mountain.
But, he said it was the "enjoyment" tackling the world's highest peaks that attracted him to it.
"I believe the day you're born there's a nick in the calendar when you're going to be taken, so you may as well live life to the full while you're here.
"As my father once said, life's not a rehearsal."
Mr Hanna even said he had tried to get a permit to climb Broad Peak, a mountain near to K2, in the next few days but was unable to get one. However, he will be climbing Kilimanjaro and Mont Blanc in the coming months.
Just hours after Mr Hanna reached the peak, Jason Black, from Letterkenny, became the third man from the island to climb to the top of K2.
In an emotional audio message posted on his blog from the peak, he paid tribute to his family and Gerard McDonnell.
In a second message posted online Mr Black, said he had reached Camp Two on his way back down and that he was now below the "critical safety point of the mountain".
"(I'm) absolutely smashed, it's the only word I can use, but elated at the same time."
In his message from the peak, Mr Black, an endurance athlete who climbed Everest in 2013, said he was "one hell of a proud Irishman, one hell of a proud Donegal man".
"This was hell, this was absolutely hell and back," he said.
"I'm only half way there, I have to get safely down but so far so good."
He paid tribute to his family, as well as the Irish Red Cross, who he represents as an ambassador.
He added: "Ger McDonnell, 10 years today stood on this mountain. I'm standing here 10 years later.
"Super proud of you Gerard McDonnell, your legacy will always live on."
Mr Black began his athletic career in judo before becoming a competitive cyclist. He then turned to mountaineering and endurance sports.
Earlier in 2018, he attempted to break the 24-hour indoor cycling world record.