Man attacked care home resident with a walking aid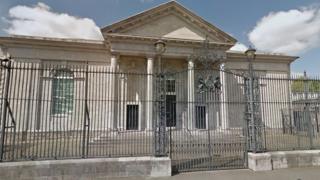 Social services are "at their wits end" with a man who attacked another resident in an Armagh care home, a court was told.
George John Jess, 58, who is now of no fixed abode, struck the resident with a walking aid on 10 June.
The victim is described as highly vulnerable, and was unable to provide a complaint, due to their condition.
Armagh magistrates court heard that four police officers were also assaulted.
Jess became "aggressive and violent" when he was approached by police.
In the process of being restrained, Jess punched a female officer and stood on the foot of another.
'At their wit's end'
Later during interview, Jess claimed to have no memory of the incident as he had been drinking, although he did recall police arresting him.
Jess' defence solicitor said his client accepts the offences but pointed out the care home is no longer available to him as a result of the incident.
He said, "Social Services are at their wit's end with this man.
"They simply have nowhere to accommodate him. He has nowhere to go on release from prison other than to present himself to the Housing Executive as homeless.
"If he does that, I fear he will be back in court very soon."
'You behaved appallingly'
The defence solicitor added that efforts are ongoing to find a placement somewhere for Jess within a care facility.
Jess was given a three month prison sentence.
District Judge Desmond Perry told Jess, "You behaved appallingly, and all due to drink.
"You will have to get that under control or the courts will take a dimmer view in future than I will do today.
"Social Services are trying to find a position for you. It's up to you on whether you can maintain that."