NI Paper Review: Paisley suspension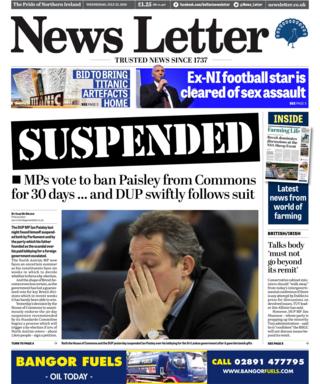 Paisley's suspension, titanic artefacts and the transplant games are all across Wednesday's front pages.
The News Letter headlines with "suspended", as MPs voted to ban Ian Paisley from the House of Commons for 30 days on Tuesday.
The North Antrim MP's constituents now have six weeks to decide whether or not to force a by-election.
If 10% of North Antrim voters, around 7,600 people sign a petition, a by-election will be triggered.
The News Letter reports that the government has now lost one key vote ahead of close Brexit talks in the autumn.
The Irish News reports on Belfast's race to secure a rare collection of 5,500 artefacts recovered from the wreck of Titanic between 1987 and 2004.
A £14.5 million campaign was launched on Tuesday by four organisations to buy the artefacts which could be split up and sold to collectors.
If the campaign is successful, the items would go on display at the Titanic Belfast exhibition centre.
The Daily Mirror NI reports on a man from Dublin who is believed to have gone missing after getting caught up in the wildfires in Greece.
Brian O'Callaghan-Westropp was in Greece with his new wife Zoe Holohan as they were celebrating their honeymoon after getting married last week.
The newspaper reports that the couple had to run into the fires as their hotel was engulfed in flames.
It is believed Zoe Holohan is in hospital recovering but has suffered burns to her head and hands.
The Belfast Telegraph reports on a four year old girl from County Down who will compete in the British Transplant Games next week.
Lucyellen Johnston was diagnosed with Biliary atresia, a rare liver disease, when she was just one month old.
After receiving a liver transplant from her father, Edward Smith, Lucyellen survived and will join more than 1,000 transplant athletes in Birmingham.
The newspaper reports that she will compete in ball throwing, a 25 metre track race, long jump, obstacle racing and beanbag archery.
Man Booker Prize
The Irish News reports that an author from North Belfast is among 13 nominees for the 2018 Man Booker Prize.
Anna Burns received the nomination for her book Milkman which is set during the Troubles.
The winner of the prestigious annual literary award will receive £50,000.
And finally, the Belfast Telegraph reports on a former Ulster Rugby player who has walked the 621 mile length of Ireland barefoot.
Ex-scrum half Stephen Bell completed the barefoot walk in 22 days and battled scorching heat, a dog bite and a bull chase during his trip.
Mr Bell started his journey from Castletownbere in County Cork and ended it in his home village of Ballintoy in County Antrim.
The newspaper reports that Stephen Bell raised £3,800 for Northern Ireland Forest school association, a charity that focuses on getting more young people to discover nature.