Hammond: 'We will resist any divergence with NI'
By John Campbell
BBC News NI Economics & Business Editor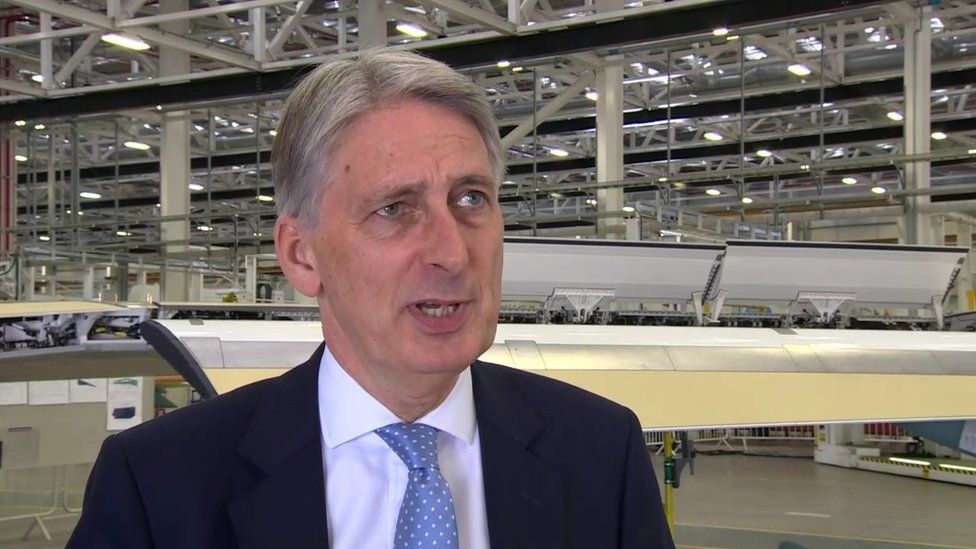 The government will resist any further regulatory divergence between Northern Ireland and the rest of the UK post-Brexit, the Chancellor has said.
Some analysts have proposed a backstop solution which would see Northern Ireland align with the EU's single market for goods.
But Chancellor Philip Hammond said there would be a "strong resistance" to any new divergence in regulations.
The Brexit negotiations are currently deadlocked on the border backstop.
Speaking on a visit to Belfast, he said: "We have historically some divergences in regulations between Great Britain and Northern Ireland, particularly around animal health protection.
"I think people would be willing to see those arrangements maintained.
"But I think there would be a strong resistance to creating any new areas of divergence in regulations between Northern Ireland and Great Britain."
The backstop is the arrangement that will apply to the Irish border if a wider deal or technological solution cannot keep it as frictionless as it is today.
One suggestion would see Northern Ireland align with the EU's single market for goods. That would help keep the Irish border frictionless but may mean restrictions on some goods being moved from Great Britain into Northern Ireland.
But Philip Hammond has reacted sceptically to that idea.
The UK and the EU agreed in December 2017 that a border backstop is needed as part of the UK Withdrawal Agreement.
There is also agreement on what it needs to achieve: maintaining cross-border co-operation, supporting the all-island economy and protecting the Good Friday peace agreement.
The EU has proposed a backstop that would mean Northern Ireland staying in the EU customs union, large parts of the single market and the EU VAT system.
Michel Barnier, the EU's chief negotiator, has continually emphasised that a backstop can only apply to Northern Ireland.
The Prime Minister has rejected the EU's proposal, however, saying it would threaten the constitutional integrity of the UK.
She has suggested a backstop that would see the UK as a whole remaining aligned with the EU customs union for a limited time after 2020.
Her proposal, published in June, contains nothing about single market regulatory issues, which are probably more important than customs in terms of maintaining a soft border.