Public warned to stay away from Tollymore forest fire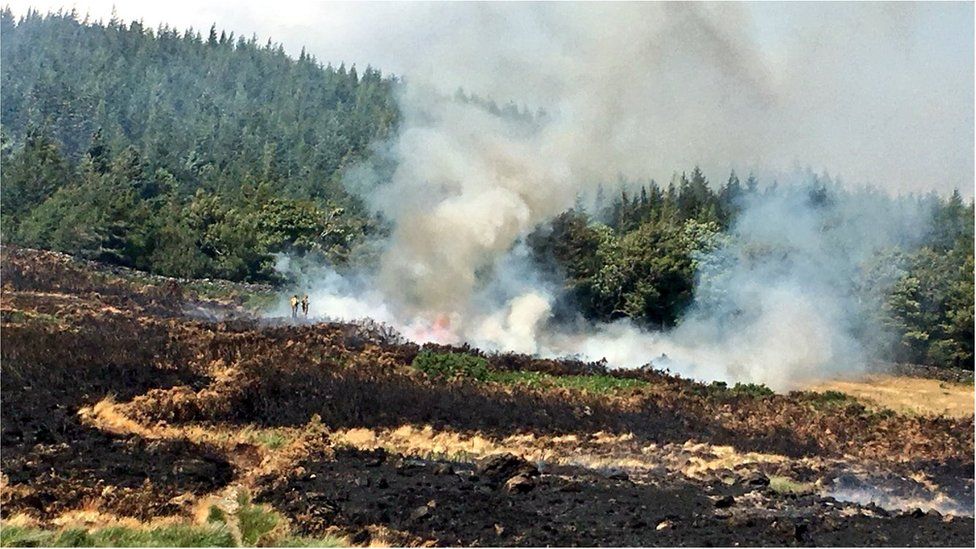 Walkers and hikers have been asked to stay away from Tollymore Forest Park near Newcastle in County Down.
Northern Ireland Fire and Rescue Service (NIFRS) said a nearby forest fire at Drinnahilly could spread to parts of the popular beauty spot.
That fire was contained on Wednesday evening, but there are concerns it could spark back into life.
Group Commander William Johnston said they could not predict changes in wind direction and heat on Thursday.
He said that the public should avoid the park, not only due to the dangers of fire, but also to ensure that they do not impede their operations.
The Department of Agriculture, Environment and Rural Affairs said that all way-marked trails and forest roads past the Shimna River in Tollymore Forest Park are closed to public access until further notice.
"The public should also be aware of additional emergency services and forestry vehicle traffic throughout Tollymore Forest Park," the spokesperson added.
Fire crews contained the fire on Wednesday night, but withdrew from the area at nightfall due to concern for the safety of personnel.
It is believed the blaze was started deliberately.
At the scene: BBC News NI's Sara Neill
There's a thick smoke on Drinnahilly. You can taste the ashes and they sting your eyes. The smell of burning stays in your hair and clothes.
Up to 10 acres of the mountain have been burnt, leaving one side charred and smouldering.
Firefighters have been here every day for the past week or so, as the ground continues to smoke.
They're tired. Some have been here overnight. Many of them are part-time. They have families, and are also holding down other jobs.
We've just been led away from the scene of the fire as the wind picks up and temperatures increase, leaving conditions just right for this fire to spread further.
The fire service say every crew that's dealing with a deliberate blaze in a forest is a crew that's not available to fight fires in our homes.
It was the second time in just over a week the NIFRS has dealt with a blaze in the area.
Eight pumping appliances, four specialist appliances with 60 firefighters and specialist wildfire officers were involved in the operation.
The fire affected approximately eight to 10 acres.