Belfast bus lanes see more than 40 warnings issued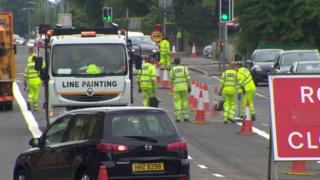 More than 40 drivers were caught using the new 12-hour bus lanes which were introduced in west Belfast last week.
Warnings were issued rather than £90 fines, except for anyone caught more than once.
The 12-hour restrictions were extended to east Belfast on Monday, stretching from the city centre to Dundonald.
In the first three hours, only one driver breached the new regulations in place on East Bridge Street, the Upper Newtownards Road and Albertbridge Road.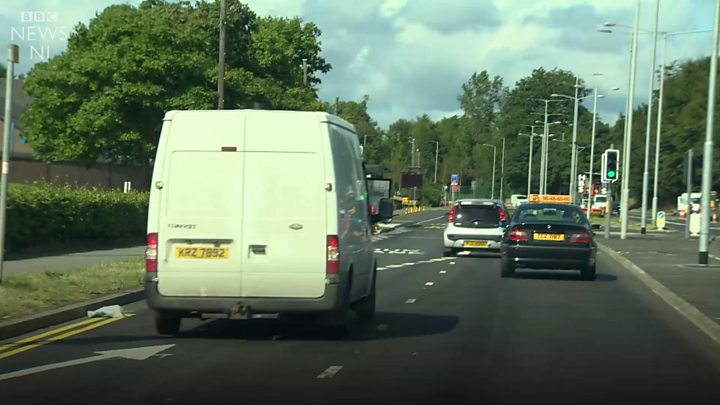 Mobile patrols are monitoring the route but they had a quiet morning, with most drivers abiding by the new restrictions.
Some traders in the area have expressed fears that the 07:00-19:00 lanes will harm business, but cyclists have welcomed the change.
'One-strike' warning
The 12-hour restrictions have been introduced to accommodate new state-of-the-art Glider buses, and there is a two-week settling in period for the regulations.
Some 43 warning notices were issued during the restrictions' first week in west Belfast, said the Department for Infrastructure.
"There has been a reduction in the number of illegally parked vehicles as the days go on," said a department spokesperson.
There will be a two-week, "one-strike warning period" in place in east Belfast.
Translink hopes the new network will see a reduction in public transport journey times by 25%.
The departmental spokesperson said: "While Glider services will not begin until 3 September, introducing the 12-hour lanes now will allow road users the opportunity to get used to the new arrangements during the summer when traffic levels are traditionally lower."
More 12-hour bus lanes will come into operation next month.
On 13 August, the extended restrictions will apply on Belfast Harbour Estate, Sydenham Road, Queen's Quay, Queen's Bridge, Queen Elizabeth Bridge and Oxford Street.
Although the restrictions are all day, there is a loading and unloading window between 10:00 and 14:00.
There is also a facility for vehicles displaying a blue-badge to stop for up to 10 minutes to drop-off or pick up a blue-badge holder.