Opponents call for halt to NI pig farm developments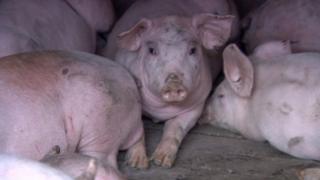 Opponents of several large pig farms in Northern Ireland say potential breaches of an international agreement should halt the developments until environmental concerns are addressed.
They claim the impact of ammonia emissions from the farms, on the environment and public health in the Republic of Ireland, has not been properly factored into planning decisions.
As such they claim the United Kingdom is in breach of commitments made under an international agreement.
The Espoo Convention requires signatories to alert and consult with neighbouring signatories on big developments which may have cross-border environmental impacts.
Both the UK and Ireland are parties to the convention, and large pig units are among the activities covered.
The convention has already been used to require the UK to consult with planning authorities in the Republic of Ireland over plans for the Hinkley Point C nuclear power station development.
Cross-border effect
A group called Friends of the Irish Environment (FIE) has written to the Causeway Coast and Glens Council which is the planning authority for one of the pig units.
The issue has also been raised by a third party with the North-South Ministerial Council, claiming proposed pig farms at Limavady, Draperstown and outside Belfast could lead to cross-border ammonia deposition.
The Republic of Ireland exceeded its ammonia emissions targets in 2016 and FIE suggests that the granting of planning permission for the Northern Ireland farms "has not considered the cumulative cross-border effect".
The relevant department in the Republic of Ireland has now written to the Department for Infrastructure asking a series of questions, including whether cross-border impacts of the developments were assessed.
The department said it would gather information from the relevant councils and reply to the authorities in the Republic.
Ammonia emissions
Causeway Coast and Glens Borough Council said the environmental statement for a proposed pig unit at Limavady had not referenced potential cross-border impacts.
It said it was now examining whether it was appropriate to consult authorities there.
Ammonia emissions have become a big issue in farming in recent years.
One hundred and five farm planning applications were held up in the system while their ammonia emissions were assessed by the Northern Ireland Environment Agency (NIEA).
In around half the cases further information was requested.
The NIEA said it was content with 37.
Nine were recommended for refusal by the NIEA and a further five had been already refused by the relevant council.
The Department of Agriculture, Environment and Rural Affairs is working on an ammonia plan to address the high levels in Northern Ireland.
One of the options being considered is a moratorium on future pig and poultry production - a significant source of ammonia.
However, a previous call for such a move has been ruled out by the head of the civil service in Northern Ireland, David Sterling.
A draft action plan could be issued later this year.