Sinn Féin accused of 'rowing back' on border poll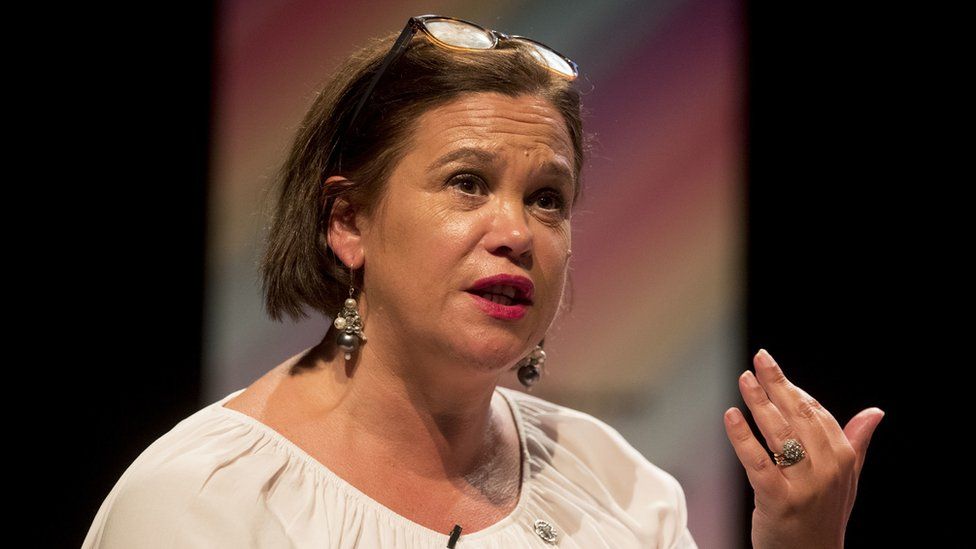 Sinn Féin has been accused of "rowing back" on its policy on the timing of a future referendum on a united Ireland.
But she later clarified her position saying that even if the UK crashes out of the EU, Sinn Féin wants to see a referendum "as soon as possible".
The DUP claimed Sinn Féin had changed its "not yet" stance within 24 hours.
DUP leader Arlene Foster said: "Whilst there have been plenty of republican soundbites about a border poll, one interview exposed that Sinn Féin has no answers to basic questions about a united Ireland, such as what happens to our free-at-point-of-need health system."
Mrs Foster added: "Few dispute there is a clear majority in favour of staying within the United Kingdom, but it would be foolish to think that families across the country are itching for a destabilising border poll."
The Ulster Unionist Party claimed Ms McDonald was "all over the place" when it came to calling for a border poll.
Its chief whip, Steve Aiken, said: "The Sinn Féin president has performed a sharp handbrake turn on the comments she made in an interview on Monday.
"She initially stated that a poll on Irish unity should not be held while uncertainty around Brexit remains, yet by Tuesday morning the Sinn Féin press office published a completely contradictory statement where she was quoted as saying that she wants a referendum as soon as possible."
He added: "It is clear that Sinn Féin don`t have a plan or a case to make."
On Monday, Ms McDonald told the Press Association that a "chaotic" or "very hard Brexit" would not provide the right climate for an Irish unity referendum.
"It's very important when we come to addressing the issue of partition we do it in the best possible climate and we do it in a way that maximises consent," the Sinn Féin leader said.
Ms McDonald's initial comments on Monday contrasted with previous Sinn Féin assertions that a referendum on a united Ireland cannot come soon enough.
On Tuesday, Ms McDonald repeated her concerns about holding a border poll amid uncertainty over Brexit and what she described as the "shadow of Tory game-playing".
But she said: "If the Tories continue to pursue a negotiation stance that can only lead to a crash Brexit, the British government will have to put the question on Irish unity to the people in a referendum."
Ms McDonald added: "Sinn Fein wants to see a referendum as soon as possible. We want to build maximum consensus for unity and win that referendum."
Meanwhile, Taoiseach (Irish prime minister) Leo Varadkar said now is "definitely not the time to talk about a border poll".
He told a news conference that it would be very divisive and unsuccessful, and the priority was to get devolution up and running at Stormont.