DUP-Tory deal: Only one project sees budget increase
By John Campbell
BBC News NI Economics & Business Editor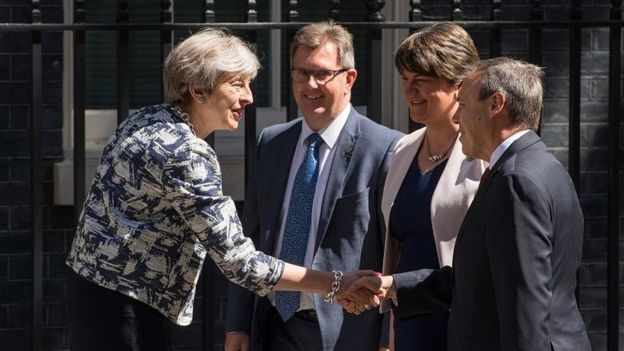 Money earmarked for tackling deprivation as part of the DUP's deal with the Conservatives has so far seen only one project getting a real increase in its budget.
Some £100m was agreed over five years for areas of severe deprivation.
In the first year of the arrangement, £20m was released but just one project, Sure Start, saw its overall budget increase by £600,000 as a result.
Six other schemes which got money saw no overall increase in their budgets.
The DUP says the investment has been "crucial for hard pressed communities" but Sinn Féin argues the money has largely been used to replace cuts in other sources of funding.
The funds were granted as part of the confidence-and-supply arrangement, agreed in June last year.
The figures emerged after Sinn Féin wrote to Stormont departments to ask how they were spending the money.
Sinn Féin MLA Alex Maskey said: "When the money for severe deprivation was announced it was expected it would be added to existing programmes.
"However as most department budgets were cut in real terms by the Tory/DUP budget we always had concerns the confidence and supply money would instead be used to mitigate these cuts.
"I wrote to departments and learned that the £20m was allocated to seven programmes, only one of which has had its budget increased by £0.6m. This shows that the remaining £19.4m was used to plug cuts.
"It is smoke and mirrors."
DUP MLA Simon Hamilton said he wished to thank Sinn Féin for "highlighting how crucial the additional money secured by the DUP has been for hard pressed communities".
"However, Alex Maskey also exposes how SF has delivered nothing for these communities. Sinn Féin boycotts the Assembly, the Executive and the House of Commons therefore has surrendered all influence and power," he said.
"Of course we want to deliver more for Northern Ireland but an additional £1.5bn isn't a bad start," added Mr Hamilton.