Rugby rape trial: Man charged over naming woman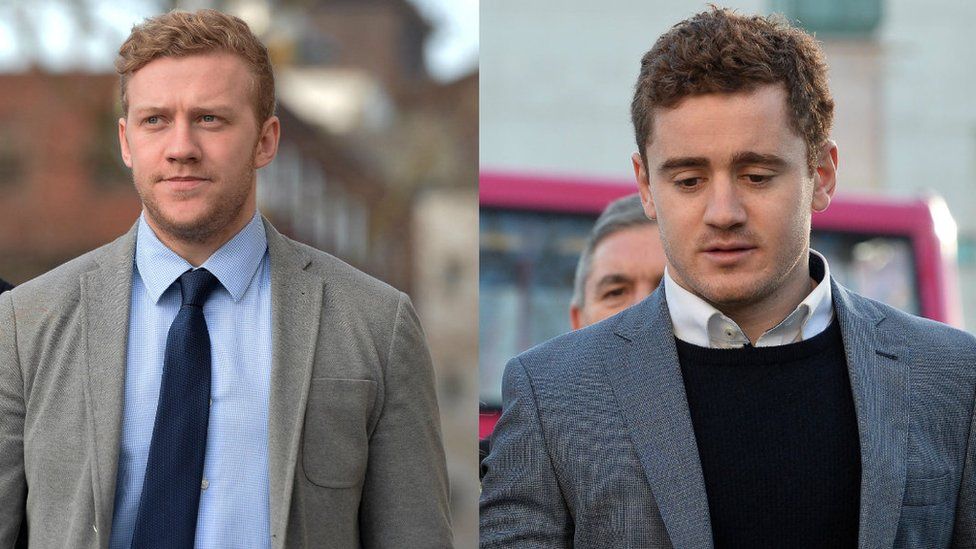 A man accused of revealing on social media the identity of the woman at the centre of a high-profile rugby rape trial is to be prosecuted.
The man is to face a charge of breaching the lifetime ban on reporting the identity of an alleged victim, said the Public Prosecution Service.
The man has not yet been named but if convicted faces a fine of up to £5,000.
Rugby players Paddy Jackson and Stuart Olding were both cleared of rape in March after a nine-week trial.
The man who allegedly revealed the name of their accuser on social media is due to appear in court later this year.
A second suspect will not face prosecution after the PPS said there was insufficient evidence.
Judge's social media warning: BBC News NI's Mark Simpson
Social media cast a shadow over the 42-day trial, causing frequent interruptions in court.
The problem was not the beeps from a smart phone - though that did happen - but the constant rush to judgement, particularly on Twitter.
Time and again, Judge Patricia Smyth warned the jury to keep away from social media.
She condemned what she called "fireside lawyers" coming to conclusions without hearing the evidence and said they should be ignored.
However, there were some posts that the authorities could not ignore.
The rape trial may be over but legal action surrounding the case continues.
Complainants in rape trials in Ireland and the UK are entitled to anonymity, and it is an offence to publish their identity.
A PPS spokesman said: "The Public Prosecution Service can confirm it has taken a decision to prosecute one person in relation to an allegation of breaching the anonymity granted to a complainant in a high profile rape trial.
"After a careful consideration of all evidence, it has been decided to prosecute that person on one charge of breaching the lifetime ban on reporting the identity of an alleged victim.
"A second suspect reported separately by police for allegedly breaching the same complainant's identity will not be prosecuted after it was concluded there was insufficient evidence to prove any offence had been committed.
"In taking these decisions, senior prosecutors considered evidence received from police in relation to social media posts which were alleged to have potentially identified a complainant involved in trial proceedings which ran at Belfast Crown Court from January to March 2018."