Public asked for views on plans for farming after Brexit
By Conor Macauley
BBC NI Agriculture & Environment Correspondent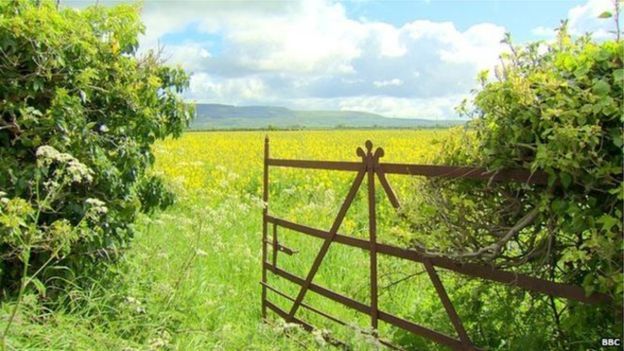 Plans for the future of farming in Northern Ireland after Brexit have gone out to public consultation.
They include measures to support farms and improve the environment.
The public has until 10 October to give their views.
The current system of EU subsidy payments will no longer apply after 2019. A decision on the shape of the final policy will not be taken until devolved government returns.
It is envisaged that even under domestic arrangements there will be little change until 2022, when a new NI specific system could be introduced.
It is hoped it can improve farmers' productivity, protect their incomes from external shocks like extreme weather or market volatility and encourage them to work in a way which is more environmentally sustainable.
Many farmers rely heavily on support payments for the bulk of their income.
The Ulster Farmers' Union welcomed the consultation but said it was frustrated it had taken so long "to get the document onto the table".
"We have to make sure that Brexit is an opportunity for farmers here," said president Ivor Ferguson.
"This is an opportunity to create a better system, and it is essential we take this chance to get it right."
The policy paper says such payments can help farms remain viable but can also mask inefficiency.
In coming years it suggests a farm payment which is lower than that currently received and asks for views on the appropriate level.
It also suggests differentiated payments depending on the condition and quality of the land farmed.
Measures could be considered to stop larger farms being overcompensated and prevent money going to non-commercial holdings.
A range of other measures such as income insurance and a deposit scheme, which farmers could save to in good years and draw cash from in bad years, are also suggested.
The new farm policy would encourage farmers to help address significant environmental challenges linked to the industry including water pollution and ammonia emissions which impact biodiversity and sensitive sites.
It says changes in farming practices could deliver "major gains" which should be the focus of new proposals.
The policy proposal states farmers should be financially rewarded for providing "public goods" like improved biodiversity and asked to help design schemes to do this on a landscape-wide level.
Targets include increases in important habitats and species at favourable status; improved soil and water quality; reduced ammonia emissions and a continuing fall in the carbon intensity of food production.
The paper does not go into detail about what proportion of farm income might be drawn from such schemes.
The policy document also focuses on plans to drive innovation and encourage farmers to share knowledge and get qualifications and training.
There are also proposals to encourage investment and attract young farmers into the industry.
It includes suggestions on a move away from the system of short-term land leasing called conacre to a more efficient system of long term rental.