Belfast Pride: The people flying the rainbow flag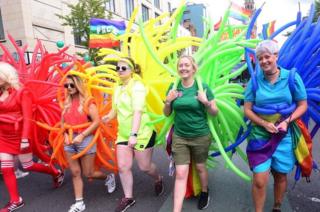 Rainbow flags, face paint, fancy dress and brightly coloured floats will create a riot of colour on the streets of Belfast on Saturday.
But what is Pride all about and why is it more popular now than ever?
Is it a carnival of love, a big day out for people of all ages, a political protest or a search for a safe space?
On the 25th anniversary of Belfast Pride, BBC News NI asked people from the LGBT+ community in Northern Ireland how Pride has evolved.
'We supported from the sidelines' - Christine Williamson, 37, Belfast
My first Pride was 20 years ago when the scene was small but packed. There were a handful of bars which were exclusively gay, usually with very little light.
We gave them all a go. Those were our safe spaces.
Somewhere we could go to be ourselves. Somewhere where nobody would look, or point, stare or whisper.
Somewhere where we didn't have to look over our shoulder or keep an ear out for the insult. 'Dyke. Lesbo. She-male.'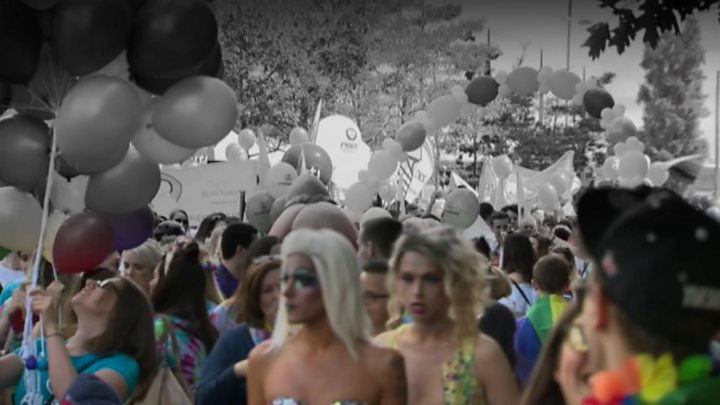 The parade has changed immeasurably in 20 years. It felt grittier, realer and edgier in the early days.
A small number of brave souls marched for all they were worth, squaring their shoulders and tossing their hair in the face of the curious, ambivalent or just plain bemused onlookers on Royal Avenue.
We supported from the sidelines, sipping a tipple from an ill-gotten takeaway cup and loitering in a shop doorway.
It's now loud and proud, the 'in thing' with kids draped in rainbow flags and dogs in bright bandanas.
Our straight family and friends aren't afraid to skulk in that doorway, ashamed or afraid of who might see them, recognise them, pass on a whisper, "Did you see so-and-so's mother at the Pride parade? She's straight you know!"
The people of Northern Ireland have started to show their true colours and there are seven of them: red, orange, yellow, green, blue, indigo and violet. Maybe it's time the politicians followed suit.
'Here to fight' - Conleth Kane, 34, Lurgan
Pride season isn't about promoting homosexuality, it's about reminding society of the inequalities that our communities still face in 2018. For example, not being able to marry the person you love in your hometown in Northern Ireland.
Someone said to me the other day that when we grew up as children, heterosexuality was completely promoted in our faces. We thought that we were wrong.
Pride is one day that displays that the LGBTQ community are here to fight. We want equality and we won't stop until we get it.
'I had been hiding for so long' - Becky Miskimmin, 27, Donaghadee
Pride means something different to everyone, but it has always been about standing in solidarity, demanding change.
It's so stupid that I can legally get married in Carlingford but if I cross the invisible line which is our border and I am on Northern Irish soil, I am no longer married.
The biggest thing that I've noticed about the evolution of Pride is that there are more opportunities for information. There are more places for people to ask questions, seek help, find a safe space and come out if you haven't.
My happiest Pride memory was two years ago when I was on a float with my girlfriend and some friends, blowing bubbles and dancing.
In that moment, I was free. I had been hiding for so long.
Pride is a celebration of freedom, but it's about calling for change too.
'Not just a one day thing' - Lauren Millar, 21, Carrickfergus
My number one thought during Pride is always that it is a political protest.
It's really wonderful that so many people now feel welcome to celebrate Pride and we have so many people come out to support the LGBT+ community.
It makes me feel really loved and accepted and Pride makes me cry every single year without fail.
It has become very commercialised though and it can sometimes feel like it's been taken over by big companies declaring that they're so 'queer-friendly' when there's no evidence that they really are.
Are these companies supporting LGBT+ charities and their own staff the rest of the year? Or have they just come out for a geg and an excuse to have a drink?
It's not just a big party, although it can be loads of fun.
It's not just a one day thing. It's our lives. We want to exist as fully equal members of society.
'I'm not alone' - Sarah Montgomery, 21, Bangor
Living as an out and proud LGBT woman in Northern Ireland is surprisingly easy in everyday life.
You learn to live with the odd stranger on the street staring or shouting, or whispering as we walk by.
It's only when high profile people come out of the woodwork at this time of year and you get a lot of news coverage over complaints about Pride flags in shops, that it really hits home why Pride is still so important.
Having everyone come together to celebrate our community reminds me that I'm not alone and that there are people out there fighting for our rights and equality.
It reminds the people who hate us so much for the way we were born that we are normal and happy and we are comfortable in ourselves and the way we live.
'It's our home too' - Andrew Cassells, 25, Newtownards
I was born 10 years after being gay was 'legal'. In that time, the only people who have treated me ill are hypocrites who preach love, but only for the chosen few.
Northern Ireland's young are fleeing this place because we are seen as isolated and hateful. Yet this place is still full of love and passion.
The flame always gives off a flicker before it dies, and the age of bigotry being the norm is dying.
Stay and fight, it's our home too.