Bottled water issued after diesel pipe find in Killeavy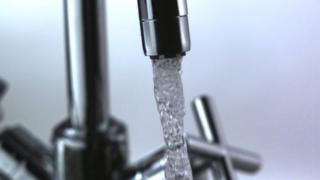 Bottled water has been issued to dozens of residents in Killeavy, County Armagh, after the discovery of a disused pipe which contained residual diesel/petrol.
Sinn Féin said residents in the Carn Road and Green Road areas had reported "a strange smell from their water supply".
NI Water said it had carried out a flushing exercise to clear the system.
It issued a tap water warning notice for drinking and cooking to 43 homes.
It said it would "continue to flush as long as necessary to resolve the problem".
"In the interim, a 'Do not use tap water for drinking or cooking' notice was issued to 43 homes," said NI Water in a statement.
"Our number one priority is the quality and safety of drinking water and our policy is to err on the side of caution."
Sinn Féin councillor Liz Kimmins said a similar issue had arisen about three years ago in relation to water in the area.
"NI Water officials assured us that the problems with the water would be thoroughly dealt with," she said.
"The problem has arisen again in the past few days.
"Water going into homes appears to be contaminated with a diesel type substance and there is a horrible smell off it."
'Ground contamination'
NI Water confirmed the area was affected by a similar issue in 2015.
It said that at the time, it identified that "a third party spill of diesel/petrol had entered the distribution system which impacted water quality".
Substantial work was undertaken at the time including replacing an air valve, pipe work and stop valves, the company added.
It said that as the "situation has reoccurred", further investigations have uncovered a disused pipe, approximately 18 inches in length, "which contained residual diesel/petrol".
That pipe has now been disconnected.
"We are also arranging to have a section of water main and services replaced with barrier pipe work to avoid any future ground contamination impacting on the water supply," it added.
It said it was liaising with the Northern Ireland Environment Agency (NIEA) "in relation to the ground contamination".
"NI Water is providing updates to affected residents and have arranged to meet with elected representatives to outline actions that have been taken and are being taken to prevent this situation arising again," it added.
SDLP Newry and Armagh MLA Justin McNulty told BBC News NI one family had "ended up washing their children in the sink with bottled water for the last week".
He added that NI Water had been "very proactive and provided alternative water for families".
"They do think they've got to the source of the problem. They're putting in a new impermeable water main."