Rural broadband challenge 'significant'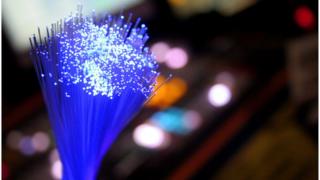 Northern Ireland faces a "significant" task in boosting rural broadband coverage in a £150m deal agreed with government, a new report says.
The study claims work will take three years to complete.
The Department for the Economy has not yet awarded contracts and the report says guarantees must be given about the money.
The cash is part of the DUP's deal with the Conservatives, but has not yet been released by the Treasury.
Upgrading
The study, published by the Northern Ireland Broadband Industry Forum, said properties with with a connection of less than 30Mbps will be targeted - which potentially means upgrading broadband to 100,000 premises.
It describes the magnitude of the work as "significant" and it should "predominantly" involve rural locations.
The forum represents 14 bodies, including business organisation the CBI and industry regulator Ofcom.
Tenders for the work, funded as part of the confidence and supply agreement, have yet to be advertised but the department previously indicated it hoped to do so later this year.
A separate report by BT recently stated the broadband deal will bring £1.2bn boost to the economy.
Broadband coverage in Northern Ireland has been improving, according to fresh data from Ofcom.
However 7%, or 50,500 premises are without broadband and unable to access the most basic service.