Amateur sports events 'slaughtered' by new rules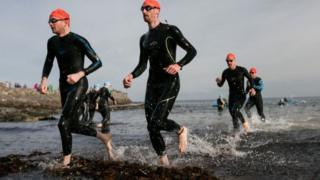 Dozens of amateur sports events have been cancelled due to new road safety arrangements, organisers have said.
They say running events and triathlons across NI are particularly vulnerable due to the increased costs incurred.
A law, which came into effect in late 2017, transferred responsibility for permits from police to councils.
The Department for Infrastructure said any proposal to amend or revoke the legislation would require the approval of a minister of the NI Executive.
Northern Ireland has had no government since January 2017, when a power-sharing deal collapsed.
'Slaughtered'
Ciaran Kearney, from NI Sports Forum, says nine events have been cancelled this year in the Downpatrick area alone.
The Ireman triathlon, due to be held in Groomsport, County Down, in September, has also been cancelled.
Community Multisport, the not-for-profit company which organised the event, informed entrants this was "due to the uncertainty, red tape and costs" associated with the legislation.
Conal Heatley, from the organisation, said it had "slaughtered the calendar for smaller events".
"Unfortunately, the legislation is broken," he said. "It doesn't work."
Peter Jack, from the Triangle Triathlon Club, questioned whether the government really wanted to fight illnesses such as heart disease and diabetes.
"It's a tax on health and fitness, a tax on charities and a tax on Northern Ireland," he said.
Signage and cones
The legislation imposes a stringent set of requirements on events held on public roads.
There is no set charge for permits - the amount has been left to the discretion of councils.
Some have decided to issue free permits to small events, while others charge hundreds of pounds.
Event organisers claim there is no consistency in the fees being charged.
Depending on the nature of the event, organisers may have to supply a traffic management plan and risk assessment, and proof they have consulted residents or businesses.
Organisers are responsible for road signage and cones but these can only be put in place by qualified contractors.
Previously, organisers obtained permission from the Police Service of Northern Ireland (PSNI) under general policing powers and there was no charge.
A Department for Infrastructure spokesperson said the legislation was first enacted in 2010 and was "subject to both a public consultation and the scrutiny of the full assembly process".
He said councils had "a discretionary power to recover costs incurred".
The PSNI said any sporting event requiring any restriction or regulation of traffic fell within the remit of the new road closure application arrangements.
"As with all new processes and procedures it is expected that there will be some teething problems, particularly given that this represents a significant change for event organisers and the district councils who handle the applications," they said.
"Once the application and traffic regulation order come to police for action, it is very much business as usual for us and we engage with organisers to formulate plans and discuss what resources are required.
"Given that we are almost a year since the changes were introduced, police have seen a significant improvement in how the applications are being submitted and processed."