Policing with Pride: Why the PSNI paraded in Belfast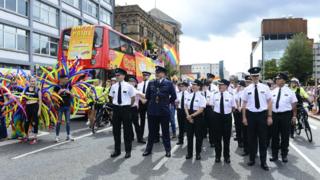 The Police Service of Northern Ireland (PSNI) took part in Belfast's Pride parade on Saturday.
The PSNI had taken part in the Pride festival before, but last year was the first time they paraded in uniform.
Michael, a serving police officer, told BBC News NI that it shows the LGBT community that they can have "trust and confidence" in the PSNI.
"It's about having a voice at the table on diversity issues," he said.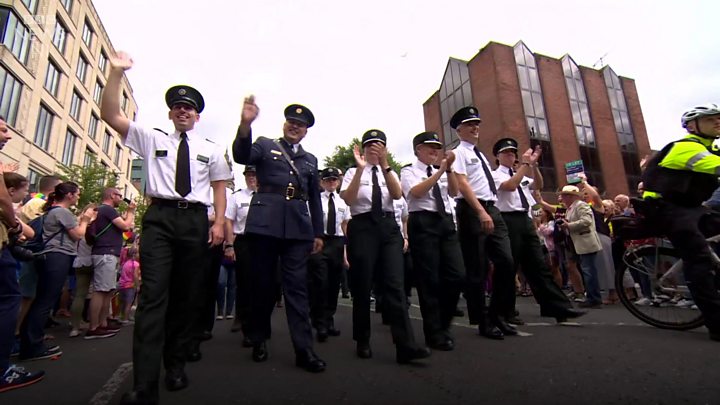 Michael, who is a member of the PSNI LGBT Network, said it was important that officers wore their uniform during the parade.
He said: "For the public, they see us in uniform routinely and it was about us saying to the public, 'this is the police service as you know and see them, taking part in Pride and demonstrating our commitment to those values of inclusiveness, diversity and respectfulness, in the same way as we do throughout the rest of the year'.
"It was an apprehensive morning for most of the group who were taking part (at Pride 2017) because we weren't really sure how we were going to be received, but as soon as we came onto High Street, it was an overwhelmingly positive experience.
"Many of the PSNI LGBT Network have said that the public's reaction was one of the stand-out moments of their careers within the PSNI, and some of those officers are quite senior."
'Being yourself at work'
"Policing with Pride is like policing, really," said the long-serving officer.
"It comes back to being yourself at work and actually being confident enough to be yourself.
"We're fortunate enough that the service has a place for diverse voices at strategic and tactical levels.
"It doesn't dominate, but it is, at its very core, about coming into work and being confident in who you are and what you are, and being able to articulate that in a way that can impact on the service so that they are aware of diversity issues, that otherwise they may not be.
"It's good that we are part of a service that sits down and takes those voices into account."
Since Pride last August, the PSNI LGBT Network, which meets every six weeks, have more than doubled their membership, taking them up to about 190 at present.
"It's had a positive effect on empowering LGBT staff to come forward and identify as such," said Michael.
"That's really our focus - empowering people to be themselves and not have that fear of stigma."
Hate crimes
During a special Pride policing event at the University of Ulster on Tuesday, Ch Supt Emma Bond acknowledged concerns about under-reporting hate crimes within the LGBT community.
"One of the reasons we did Pride last year was to increase the reporting of hate crimes," said Michael.
"For us, an increase in the reporting of hate crimes is a success.
"Rises can be alarming, and it's a bad thing for anyone to suffer, but to get the reports in for us is successful because we know hate crimes are under-reported.
"The more we get, the more we can investigate and hopefully bring some kind of outcome for victims."
Flying the rainbow flag
For Michael, this year's Pride was of huge significance.
"My initial experience of Pride was before I joined the police, when I was 17 and I walked along, carrying the huge rainbow flag, and it was very much a smaller parade," he said.
"To see it now as such a huge event, with so many people lining the streets to support the parade and such a change in the crowd in terms of the growth in the number of families and kids out supporting the participants is great. That's the shift for me.
"It used to be much more of a specialist, or niche, sort of event but it's now much more mainstream and I think that says a lot about how we, as a society, have come along in the last 15 to 20 years.
"We are much more inclusive, diverse, open and confident about who we are."