NI newspaper review: Border poll and Sinitta's Pride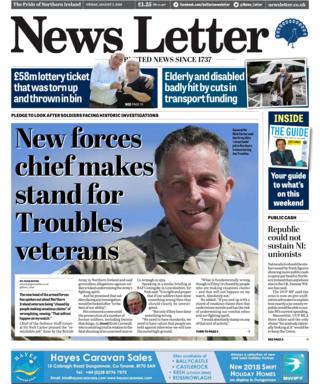 Disputes on a possible border poll, protection for veterans and the petition to oust North Antrim DUP MP Ian Paisley all make the front pages this morning.
Former DUP leader Peter Robinson trumpets "the battle for the union" on the front page of The Belfast Telegraph.
Mr Robinson writes that unionist complacency is "inviting disaster" and that they need to prepare for a referendum on Irish unity.
"While those who are still in denial and refusing to talk about the elephant in the room, it is positioning itself to squat upon their laps," he writes.
The comments echo a speech Mr Robinson gave a week previously in Donegal, when he said that unionists should prepare for a united Ireland - even though he does not believe it will happen.
His comments were subsequently criticised by TUV leader Jim Allister and DUP Sammy Wilson.
Responding to the criticism in The Telegraph, Mr Robinson wrote: "Some people have suggested such matters should not be discussed as it may provide momentum towards the very outcome we seek to avoid. Such claptrap. Where are they living?"
Recall petition
Another prominent DUP party member makes the front page of The Irish News.
The newspaper leads with a story that the Electoral Office is facing criticism for only opening three venues where voters in North Antrim can sign a petition to oust Ian Paisley.
Legislation allows for up to 10 locations in the constituency where the six-week petition can be signed.
Recently, Mr Paisley was suspended from Parliament for 30 sitting days when he failed to declare two luxury family holidays in 2013 paid for by the Sri Lankan government.
He has also been suspended by the DUP "pending further investigation into his conduct".
Mr Paisley has insisted he will fight any by-election to save his Westminster seat if he is forced to stand down.
In defence of veterans
The News Letter leads with comments made by the UK's new head of the armed forces, who says that veterans are being "chased by people making vexatious claims" of wrongdoing.
General Sir Nick Carter, chief of the defence staff, promised that any soldiers who are facing investigation would be looked after "to the best of our ability".
His comments, made at a media briefing in Lincolnshire, come as a number of former soldiers from Cornwall await trial in relation to the fatal shooting of an unarmed man in Co Armagh in 1974.
Also on the News Letter front page is a warning that the Republic of Ireland could not sustain Northern Ireland.
DUP MP Sammy Wilson said nationalists should be embarrassed by figures showing that more public cash is spent in Northern Ireland than anywhere else in the UK.
Pro-unification advocates need to explain how exactly a 32-county republic would work while maintaining Northern Ireland's current spending, he said.
A song for Northern Ireland
American born singer Sinitta gives a wide-ranging interview to The Belfast Telegraph, touching on her role in Belfast Pride, life as a single mother and Simon Cowell.
The singer, who initially found commercial success in the mid-1980s with the single So Macho, performed her new dance floor anthem Shine with Pride for the first time at the Kremlin Bar for the start of Belfast's Pride festivities.
"It is self-penned, I wrote it myself as a tribute to the LGBT community that God loves them and God loves us all the same," she said.
Speaking about the ongoing debate about legalising same-sex marriage in Northern Ireland, Sinitta said she has been reduced to tears by stories about the baptism of same-sex couples.
"There are no perfect people in the Bible. Jesus died to cover our sins, so why are we still trying to persecute and discriminate and condemn people?" she said.
Rising star
Catherine McGrath, the 21 year-old country music star, is interviewed in The Irish News.
Ms McGrath has recently released her new album, Talk of this Town and said it feels like she has been writing these songs for two-and-a-half years.
Hailing from Co Down, McGrath has her Granny to thank for her taking up the guitar, but it was Taylor Swift's influence that turned her towards country music.
"[Love Story] is about speaking your truth and telling your story - that's why I fell in love with it when I was 12," she said.
She also revealed that when a record company came calling to sign her, she thought it was just a stalker at first.
"When he messaged me I assumed he was some weirdo, so I just ignored him - and he was messaging me for months!"
In the end, her mother checked with the record company, Warner's, with whom she is now signed.