Belfast's first rooftop running track included in office plans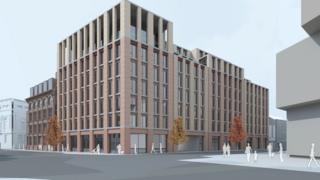 Plans submitted for a new office building in Belfast include a proposal for the city's first rooftop running track.
It is part of the redevelopment of the Belfast Telegraph building.
The building was bought in 2016 by a partnership of Belfast City Council and County Tyrone property firm McAleer and Rushe.
They are proposing to refurbish the listed building and demolish the non-listed buildings on the one-acre site.
The scheme's architects Allford Hall Monaghan Morris have previously included a rooftop running track in another of their projects - the White Collar Factory building in the Shoreditch area of London.
Depending on planning, construction could begin before the end of this year.
The Belfast Telegraph newspaper is now based in the city's Clarendon Dock, while its printing operations are in Newry.