Thousands take to streets for Belfast Pride parade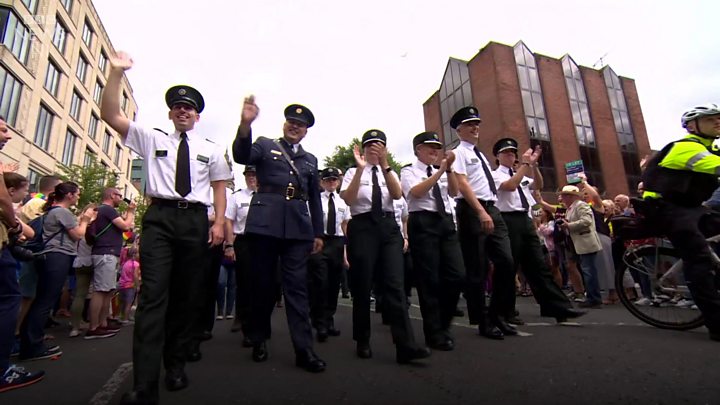 Tens of thousands of people have attended Belfast's annual Pride parade, the police have said.
It is billed as both a celebration of the city's Lesbian, Gay, Bisexual and Transgender (LGBT) community and as a protest calling for equality.
The parade set off from Custom House Square at 13:00 BST and marched in a loop through the city centre.
Organisers changed the route this year after Belfast Pride "completely outgrew the old route".
Belfast Pride volunteer worker, Denise Hart, said things are very different today compared to the situation at the very first Belfast Pride more than a quarter of a century ago.
"If you think back to the first one in 1991, you would have had about 100 people - students and the likes," she said.
"If you look around today, you will see so many corporate [parade entries] this year; you'll see trade unions; you'll see community groups.
"The make up of the Pride parade has changed, it really is a parade for everybody."
Ms Hart added that the event had seen "massive" growth since 1991 and was getting "bigger and better" every year.
'Visibility'
For the second year in a row, the participants include uniformed officers from the Police Service of Northern Ireland (PSNI).
Staff from the Northern Ireland Ambulance Service (NIAS) also took part in the event.
"It's important for people to see that there are LGBT people in all parts of the community," one NIAS staff member told BBC News NI.
"Visibility is very important in regards to LGBT, to show people who are maybe in the closet that there are people in all walks of life, doing all sorts of jobs."
The head of the Northern Ireland Civil Service, David Sterling, also attended the event.
He is often described as the man running Northern Ireland in the absence of devolved government.
The power-sharing coalition led by the Democratic Unionist Party (DUP) and Sinn Féin collapsed in January 2017.
Mr Sterling chose the Pride parade as the backdrop to send his first ever official tweet in his current role.
He said the Northern Ireland Civil Service "respects and values diversity and is committed to delivering an inclusive workplace" for its 23,000 staff.