Hockey World Cup: Fans hail Irish history-makers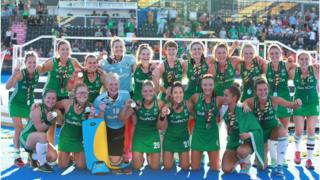 It was the biggest day in Irish hockey's 130-year history and a small corner of east London turned green.
The Netherlands won the match 6-0 but Irish fans outnumbered and out-sang the Dutch in the 10,000-seater Lee Valley stadium.
Fans came from Limavady to Limerick to cheer on the Irish team.
The green contingent was bolstered by hundreds of people from Northern Ireland and the Republic who work in London.
"I had to be here," said former Ireland captain Noelle Brannigan, who played for Pegasus in Belfast in the 1980s.
"This is an incredible day for Irish sport."
The team may have been underfunded and underestimated but they overachieved.
The Netherlands hit them for six in the final, but Ireland are 15 places below them in the world rankings.
Every time the Dutch scored, Dancing Queen by ABBA was played over the loudspeaker.
By the sixth goal, Irish fans were demanding that someone changed the record.
"What do you want instead - The Winner Takes It All?" shouted back a Dutch fan.
Everyone laughed. It was that sort of day.
The Irish squad included lawyers, teachers, students and a doctor.
Of the 18-strong squad, six came from Ulster. Like rugby and cricket, the Irish international hockey side is made up of players from both sides of the border.
Irish rugby and hockey connections run deep.
Defender Hannah Matthews is the daughter of former Ulster and Ireland rugby player Philip Matthews.
Mike Gibson - arguably Ireland's greatest ever rugby player - became a hockey umpire after he retired from the sport.
Hockey has long lived in the shadow of other sports in Ireland.
The World Cup heroics of the Irish women have given hockey the chance to shine and push other sports off the back pages.
So given the unprecedented success at the World Cup, will Irish hockey be able to retain its new top-level status?
It may boil down to funding.
Money, money, money.