Irish World Cup hockey success leaves Dad in wedding sweat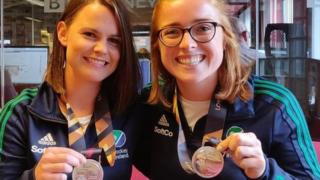 Tension dominated Ireland's World Cup hockey odyssey, but key player Lizzie Colvin believes her father is now perspiring after she said she would have to add 17 bridesmaids to her wedding party.
The lawyer made the comment after the final defeat to the Netherlands.
Lizzie hopes to get hitched to South African fiancé Matthew Holden in 2019.
"My poor dad's sweating now he is going to have to increase that wedding budget," she said.
The Belfast Harlequins midfielder joked that her Ireland teammates may also be nervous if she insists on a full guard of honour from the bridesmaids, including hockey sticks raised to the roof.
"I have always said that was naff, so they might have to do it in full kits as well," she told BBC News NI.
"I hate that as much as them, so I might make them do it."
Unexpected engagement
Lizzie met Matthew on a four-month visit to New Zealand after Ireland failed to qualify for the 2012 Olympics.
They got engaged in January, in Salzburg, Austria, on her birthday.
"It was unexpected, he took me by surprise," she said.
"In terms of the wedding, we are going to wait until after the buzz of the World Cup, we are looking at the end of 2019 hopefully."
Like several members of the Ireland squad, Lizzie has had to juggle her hockey ambitions with the demands of full-time work.
She started playing adult hockey as a teenager and previously helped Armagh to six successive promotions, before playing for Dublin side Loreto for five years.
In the build-up to the World Cup in London, the Ireland players were training five times a week.
'Stress relief'
Despite this, Lizzie, who has more than 150 caps, and specialises in employment law with Belfast firm DWF, looks at hockey as stress relief.
"It is difficult juggling the two, when I told my boss Ken Rutherford I was going to the World Cup he was very supportive, he played hockey for Ulster and Ireland," she said.
"I am more appreciative when I am playing hockey.
"I see it as a release of stress, you forget all the things that are on your desk when you are playing."
Dramatic wins
Lizzie was among six members of the Ireland squad from Northern Ireland who collected silver medals at the World Cup after securing dramatic wins over Spain and India.
Another player, Zoe Wilson from Ballyclare, is studying nutrition at Ulster University, and described the whole experience as "outstanding".
"It was excellent that we made a dent on world hockey," she said.
The former student of Syracuse University in New York acknowledged that a number of the Ireland squad had played other sports as well as hockey and felt this had contributed to their success.
Megan Frazer from Londonderry is a former Northern Ireland youth international at soccer, while captain Katie Mullan from Coleraine helped Eoghan Rua GAA (Gaelic Athletic Association) club claim an All-Ireland Intermediate camogie title.
"I used to play badminton, it is all about hand-eye coordination, playing different sports is only going to help in your hockey career," Zoe said.
The team's singing skills have also been on display across social media and Zoe said team bonding has also been a vital ingredient.
"We spend a lot of time together off the pitch and are the best of friends, we are hoping to spend more time together at Lizzie's wedding," she added.
Northern Ireland's other hockey stars
Katie Mullan
Ireland captain Katie Mullan, from Coleraine, previously played camogie for the Eoghan Rua GAA club, and was part of a squad that won an All-Ireland Intermediate camogie title.
She is a masters student in Biomedical Engineering at UCD, and was part of their team that claimed the Irish Senior Cup in hockey last year.
Katie, who has more than 150 caps for Ireland, is a keen surfer in her spare time. She says the focus now is on qualifying for the Olympics in 2020.
Shirley McCay
Shirley McCay from Drumquin in County Tyrone is Ireland's most capped sportswoman, with more than 270 appearances for Team Ireland.
The Pegasus player had previously announced she would retire after the World Cup, but now says she does not want to make any "hasty decisions".
She is a talent coach with Ulster Hockey.
Ayeisha McFerran
Ayeisha McFerran from Larne was named goalkeeper of the tournament at the World Cup in London.
She has said the secret of her quick feet is 11 years of Irish dancing.
Ayeisha is entering the final year of a hockey scholarship at the University of Louisville in Kentucky.
Megan Frazer
Megan Frazer from Derry battled back from a serious knee injury to take her place in Ireland's World Cup squad, but missed out on the final due to a hamstring injury.
The former Ireland captain, who played with Mannheimer HC in the German Bundesliga, previously had three rounds of surgery to correct a knee ligament injury.
Megan, who has undertaken a masters in Biomedical Engineering at Ulster University, played women's football for Northern Ireland at youth level, before switching her attentions to hockey.