Plans to refurbish Grand Opera House ahead of 125th anniversary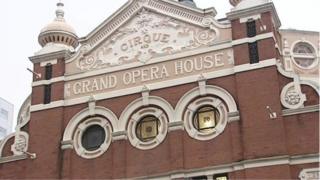 Plans have been submitted to refurbish the Grand Opera House in Belfast ahead of its 125th anniversary in 2020.
The trust that controls the theatre has included proposals for significant changes to the modern extension, known as Act 2, which opened in 2006.
The planning application suggests that Act 2 has not been a practical or aesthetic success.
It also said the spaces in the extension are under-used and not fulfilling their potential.
The planning application states: "There is a lack of continuity of theme or style between the original theatre and Act 2 accommodation and many of the linking spaces are poor quality."
The plans include a redesign of the extension's external appearance, improved "flow" to reduce bottlenecks and upgrades of bar and toilet facilities.
There is also a proposal to use part of the space as a permanent exhibition telling the history of the theatre.
In the main auditorium, seating will be replaced, ceiling decoration and paintings will be cleaned and the architectural houselights will be restored.
The auditorium's technical infrastructure will also be upgraded with new sound, lighting and stage equipment.
The application describes it as "a once in a generation opportunity to restore the auditorium to its former grandeur".
Since 2011 the trust has applied a "restoration levy" on all ticket sales which will allow it to make a "significant investment" to the project.