NI libraries bring in £400,000 in book fines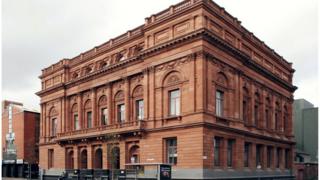 Northern Ireland's libraries have fined the public almost £400,000 in the past three years.
Figures also reveal that almost £40,000 of that amount has yet to be recouped.
Libraries NI runs 96 libraries and said it has introduced measures to encourage customers to return books and other items, rather than pay fines.
Total overdue fines amounted to £396,050 since 2015, according to data obtained by BBC News NI.
Some members of Libraries NI's board of executives believe that fines should be abolished entirely.
Worst offenders
Belfast Central Library handed out the most in fines since 2015, charging £19,416 to borrowers.
The city centre library also has £3,165 in fines yet to be paid, some of which date back to 2015.
Omagh Library levied the second highest number of book fines - £15,244 in the past three years.
A spokesperson for Libraries NI said there is generally a correlation between the number of book loans and the level of fines.
"It is to be expected that the figures for larger and busier libraries would be amongst the highest," said the spokesperson.
Total book fines in Northern Ireland have fallen by 25% - from £147,904 a year to £110,606 a year - since 2015/16.
1. Belfast Central Library
£19,416
2. Omagh Library
£15,244
3. Derry Central Library
£14,279
4. Lisburn City Library
£12,833
5. Newry Library
£11,536
Not all library fines are handed out for book borrowing.
A total of £12,492 worth of fines were levied for 'unknown item types' including DVDs since 2015.
In total, Northern Ireland libraries have yet to retrieve £39,305 for long standing book fines - some of them dating back to April, 2015.
A spokesperson for Libraries NI said: "There are a number of issues which impact on the level of fines incurred both overall and in a specific library.
"Libraries NI has taken a number of steps in recent years to encourage customers to return items rather than incur a fine. This includes an alerting service by email shortly before a book is due to be returned.
"The number of customers availing of this service has increased."
Scrap fines?
But Antrim and Newtownabbey Alliance Party councillor Tom Campbell, who sits on the Libraries NI board, said he would be in favour of abolishing library fines entirely.
In February, Trafford Council in Greater Manchester was the first UK council to abolish all library fines and the Irish government is also considering scrapping the penalties.
"At the end of the day, fines are very hard on people," said Mr Campbell.
"In the scheme of things, forgoing fines might mean that people use the library more because there is a sense of trust there.
"For the library service, they have to pursue people and dealing with enforcing judgements and enforcing fines is never worth it."