Hungarian swimmer recovering after North Channel attempt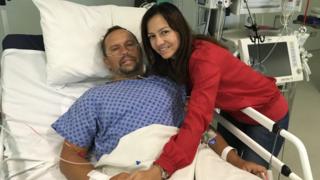 A Hungarian long distance swimmer is recovering in the Ulster Hospital in Dundonald, County Down, after narrowly failing to swim the North Channel.
Attila Mányoki, from Budapest, was trying to complete the Ocean's Seven challenge, swimming seven of the most dangerous waters on Earth.
He had to be rescued on Saturday as he neared the end of the North Channel.
Mr Mányoki was suffering from hypothermia, jellyfish stings and breathing difficulties.
"Attila was in very poor condition," Ulster Hospital consultant Dr Bob Darling said.
"However, he is not an average guy, he is very strong and fit and is making a remarkable recovery, although it may be some time before he is fit for further extreme sports."
Attila's partner Monika Pais praised the staff in the Ulster Hospital's intensive care unit:
"I have watched the staff every day, and they are so professional and caring.
"The Ulster hospital should be very proud of them," she said.
Exclusive club
The Ocean's Seven involves swimming the following open waters:
The North Channel (between Ireland and Scotland)
The Cook Strait in New Zealand
The Molokai Channel in Hawaii
The English Channel
The Catalina Channel in California
The Tsugaru Strait in Japan
The Strait of Gibraltar
If Mr Mányoki had completed the North Channel swim, he would have become only the 12th person ever to complete the challenge.
One of those is Mexican Antonio Argüelles who completed the challenge in August 2017 when in swam from Donaghadee in County Down to Portpatrick on the Mull of Galloway in Scotland.