New memorial to the victims of Ballygawley bus bombing unveiled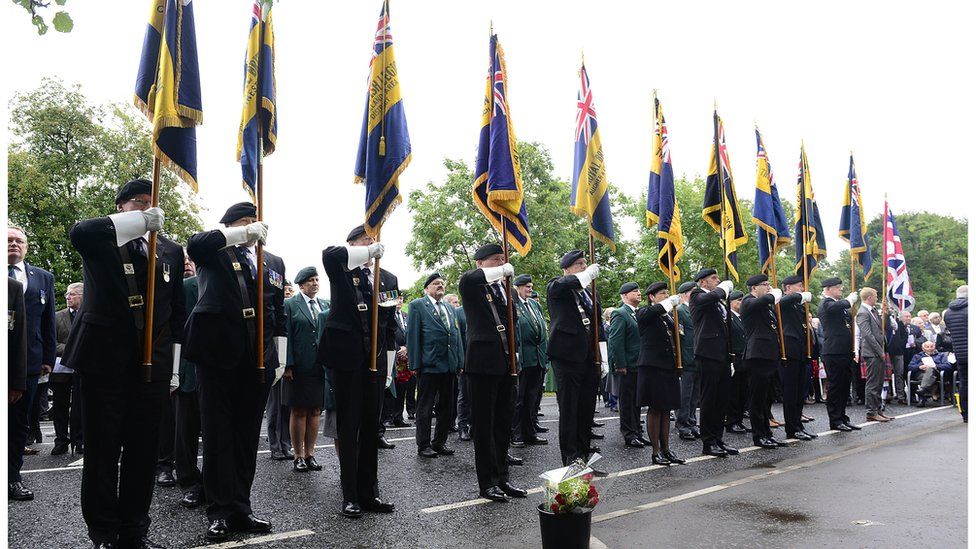 Hundreds of people have attended a memorial service for the victims of the Ballygawley bus bombing marking 30 years since the County Tyrone attack.
Relatives of the dead and survivors of the bombing laid wreaths and poppy crosses near the scene in memory of the eight soldiers who were killed.
As well as the eight dead, 28 were injured when the Provisional IRA detonated a massive roadside bomb.
The unmarked bus was full of soldiers when the attack happened.
It was was travelling between Ballygawley and Omagh after midnight when the bomb exploded.
It had been left in a parked vehicle and contained 200 pounds of Semtex.
The bus was thrown along the road.
At the memorial service on Sunday, Reverend Alan Irwin led the congregation in prayer and a new memorial was unveiled.
It includes interpretative panels explaining what happened that night.
As well as survivors and relatives of the dead, some of the first responders and medical staff who treated the wounded attended the service.
A church service to honour the dead also took place at Newtownsaville.
Among the first people on the scene were members of the Omagh Protestant Boys Band who were returning from a parade in Portadown.
They had been travelling in buses just behind the soldiers.
They also attended the service.
"He was supposed to be coming out [of the Army] that Christmas. Him and his friend had set up a business to do roofing. He had actually already paid to come out of the army when he was killed," Ms Greener told BBC Radio Ulster's The Sunday News programme, in her first interview.
"I don't think that I've grieved properly. I still think about him. I think about him every single day."