Genesis Crafty bakery sold to Tayto crisp boss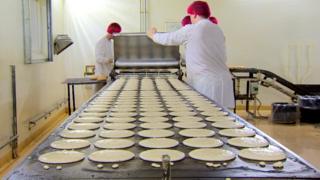 The troubled Genesis Crafty bakery in Magherafelt has been sold to a local businessman.
Paul Allen is chief executive of the Tayto Group in Northern Ireland, best known for its potato crisps and snacks.
The deal secures 260 jobs at Genesis that had been under threat by the company's imminent collapse.
Mr Allen explained that the deal was "a private investment by me and my family".
McErlain's Bakery, which produces the Genesis Crafty range, is a family business which started 50 years ago and counts Marks and Spencer and Waitrose among its supermarket customers.
The Genesis Crafty range includes pancakes, scones, cakes and bread.
Its turnover is said to have grown to £22m a year.
Mr Allen will take a non-executive role in the company, with Brian McErlain staying on as managing director.
"I'm delighted that the jobs at the factory have been secured and that Brian McErlain will be staying on as MD. I see this as a very sound business with great potential," Mr Allen said.
Mr McErlain said it was "obviously a time of mixed emotions", and he believed the new owner's involvement would be "a real benefit for the company".
The business was originally founded by Joe and Roberta McErlain in 1968 and run by six of their children, five of whom are leaving following Mr Allen's purchase.
It is believed McErlain's Bakery got into financial difficulties within the past year - the last set of accounts lodged at Companies House is for 2016.
A person familiar with the collapse said that in recent years the company had grown faster than it was able to cope with.