NI ambulance waiting times on the rise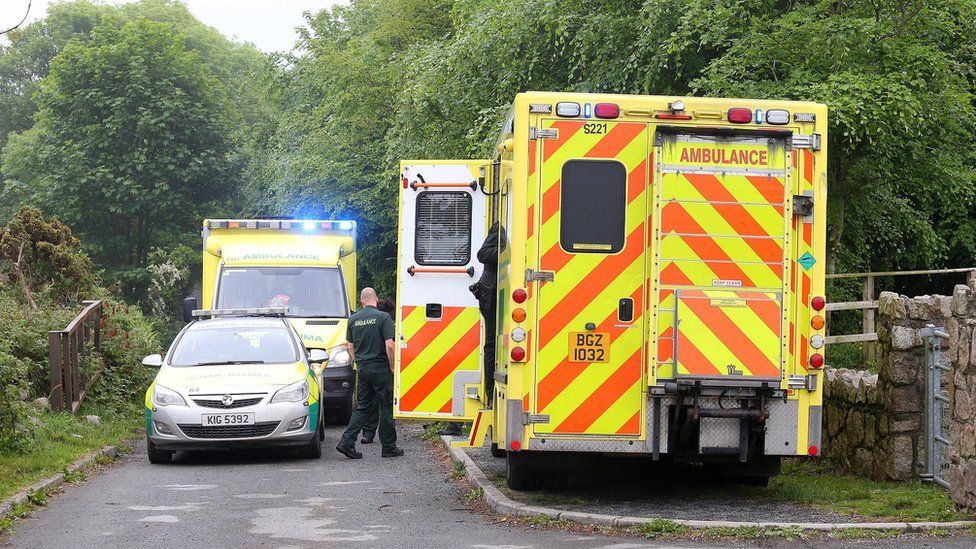 Average ambulance waiting times in Northern Ireland have risen steadily in the past five years.
In 2013, a 999 call for "potentially immediately life-threatening injuries" meant an average wait of seven minutes and 23 seconds. By 2017 that had increased by four minutes.
In the past year, an elderly man waited 17 hours and 39 minutes, however, he did not have life-threatening injuries.
The NI Ambulance Service acknowledged targets were not being met.
The BBC obtained the figures from the Health and Social Care Trust.
Response times are divided into four categories:
A - Potentially immediately life-threatening
B - Serious but not immediately life-threatening
C - Non life-threatening/serious
C HCP - Transport requests received by a healthcare professional to transfer a patient to hospital
Average waiting times for category B calls rose from 10 minutes and 33 seconds to 17 minutes and 41 seconds.
In five category C cases in the past year, pensioners waited more than 15 hours.
The number of 999 emergency calls received also increased from just under 200,000 in 2015 to more than 230,000 in 2017.
A spokesman said the issues were reflective of the challenges faced by ambulance services across the UK - namely increased demand while resources remained constant.
"To address the situation, NIAS has been working with colleagues across Health and Social Care to ensure the most appropriate response is provided to meet the specific needs of patients," he said.
"NIAS has also recently completed a demand/capacity review alongside a review of our current despatch procedures and has developed proposals which aim to provide the most immediate and appropriate clinical response to the most seriously ill or injured.
The proposals also include improved call handling for less serious calls."