NI newspaper review: Horse therapy and an Undertone's warning
By Niall Glynn
BBC News NI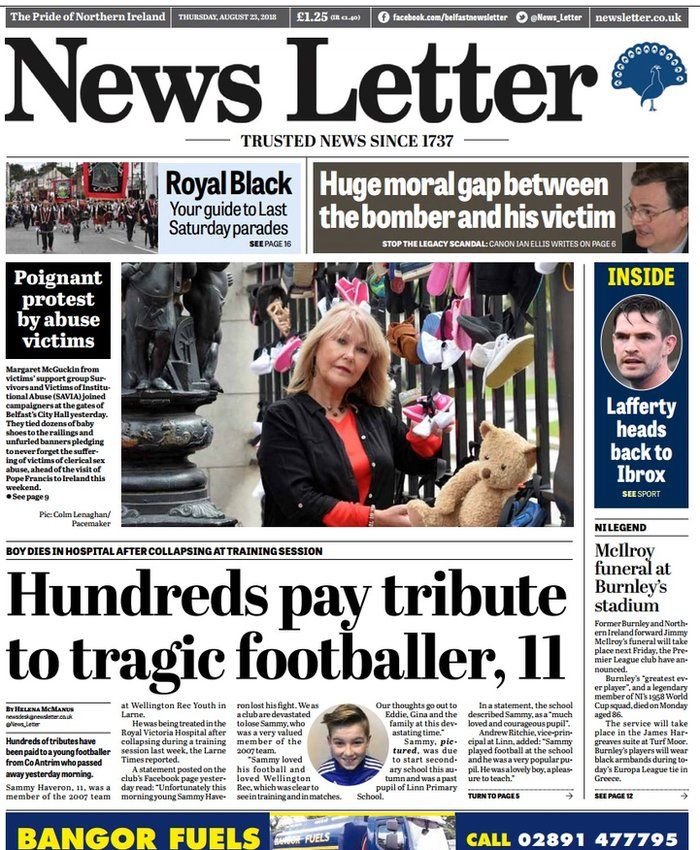 Flooded cars, humanist weddings, horse therapy and an Undertone's warning are among the stories in Thursday's papers.
Sammy Haveron, 11, from Larne collapsed during a training session last week.
His club, Wellington Rec, was amongst those paying tribute to him.
"Sammy loved his football and loved Wellington Rec, which was clear to see in training and in matches," it said.
The story includes an apology from the boss of Belfast International Airport, Graham Keddie, over the flooding of cars at one of its car parks.
However, writing in the paper, Mr Keddie says 35 cars were damaged, not 1,000 as some had speculated.
The cars were damaged when 88.2mm of rain fell on the afternoon of 28 July.
Mr Keddie said all those drivers affected are being compensated.
The Irish News lead story is the appearance of posters making false allegations about a Belfast Trust worker and another person who worked closely with the Roma community in south Belfast.
It says the posters are linked to ongoing police inquiries following separate claims of exploitation of vulnerable members of the Romanian community.
The paper also follows up on a front page story from earlier in the week concerning the investigation into alleged paedophile priest Fr Malachy Finegan.
The Diocese of Dromore has issued a statement confirming that four other priests had been interviewed concerning Finegan's activities, but it said the interviews were voluntary and that their release did not involve police bail.
Both the Belfast Telegraph and News Letter report that Northern Ireland's first official humanist weddings will take place at the weekend.
The Telegraph features pictures of the two couples who will be married in humanist ceremonies on Saturday and Sunday.
It follows a Court of Appeal's ruling in June after a case taken by model Laura Lacole and footballer Eunan O'Kane.
Writing in The Irish News, Newton Emerson asks why do people who want better politics in Northern Ireland "not simply join political parties?"
He says the Ulster Unionist Party in particular is "extraordinarily ripe" for an entryist takeover along the lines of Corbynism's takeover of the Labour Party, although he notes it would likely be more a case of Comberism in the UUP.
"Public disdain for politics in Northern Ireland", he writes "has trapped us in a form of no entryism that means politics cannot improve".
In its latest series of article about Troubles legacy issues, Church of Ireland Canon Ian Ellis writes in the News Letter that there is "an immense moral gap" between a bomber and his victim.
"A perpetrator of an attack who is injured or killed by his or her own bomb is a victim of his or her own action, but another member of the public who happens to be injured or killed, as well as being a victim of the action, is a victim of the perpetrator's intention," he writes.
The Irish News features a warning from Undertones' drummer Billy Doherty for people to "not ignore what their body is telling them" as he recovers from suffering a heart attack and stroke.
He says he had been feeling tired for weeks or months and had just finished an Undertones gig in Dublin when he suddenly had a pain in his arm and a sore throat.
After finally seeking treatment, tests showed he was about to have a massive coronary; a week later he had a stroke.
"These illnesses don't just come on overnight, but if you don't watch out for the signs, they could end up killing you." he warns.
Finally the same paper has the uplifting story of the therapy offered on a County Londonderry farm that is helping dozens of children overcome their disabilities.
Hippotherapy - derived from the Greek word for horse - has been introduced in Northern Ireland at Gortilea social farm in Claudy.
Using the movement, rhythm and repetition of horse riding, the young patients receive intensive therapy.
Among those who have benefited, the paper says, is five-year-old Maisie Colhoun, who could not sit up properly and was barely able to walk.
She has now developed an "extraordinary bond" with Smokey the Pony and her mother says the therapy has been life-changing, with Maisie now very close to walking independently.