Health service apology after staff pay deductions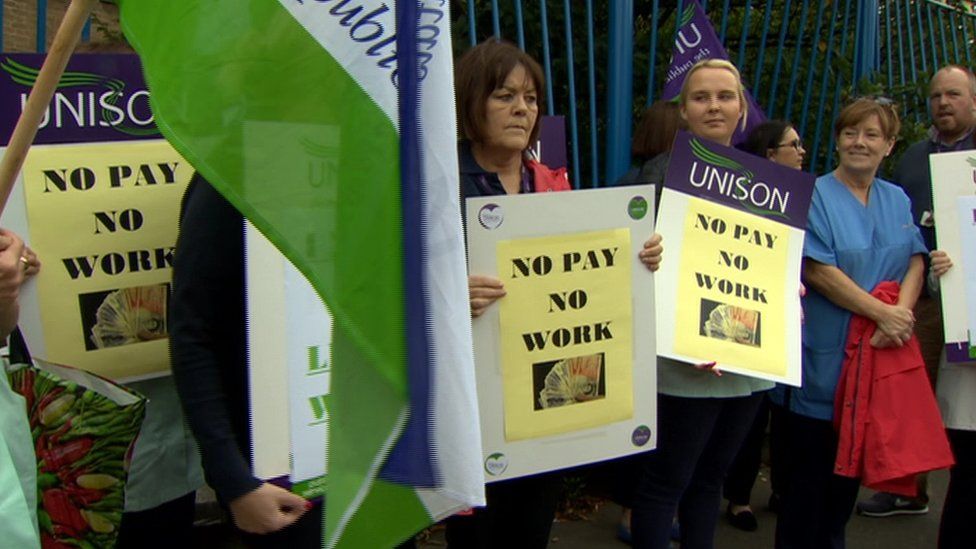 Health and Social Care in Northern Ireland (HSC) has apologised after health service workers received reduced wage packets due to an increase in pension deductions from their pay.
The Unison trade union said thousands of workers could be affected.
It said one worker was owed £1,000, while another had all of their wages for August deducted.
HSC admitted that consultation with staff about the changes "fell well short" of what was required.
It said that the deductions had been applied to cover pension underpayments since April.
"The Department of Health has asked us to meet with trade union representatives as a matter of urgency and discussions took place this afternoon," said the HSC.
"We would provide reimbursement to any affected staff who require support as authorised by each staff member's respective employer."
Healthcare workers held a protest outside the Royal Victoria Hospital in Belfast on Tuesday afternoon.
Some workers who receive their pay on a weekly basis said they had received substantially less money than they usually would.
"I was £145.50 short - left me with £80 to survive with two kids in the house and no shopping," one woman told BBC News NI.
Another woman said that she was "£140 down" and had not been given notice of the deduction.
"They didn't tell us anything about it - we received a letter after the money was deducted," she added.
It has yet to be determined how many staff have been affected.
Unison's Ray Rafferty said health workers had been left in "financial hardship".
He said there had been an agreement with HSC that staff would have pension deductions taken from their pay "incrementally".
"Unfortunately [this] has been taken out in one go, which has left people in dire straits," said Mr Rafferty.
"People who are delivering care are working under tremendous pressure to start off with but now find their wages are short.
"They're having major difficulties in trying to pay their bills."
The SDLP MLA Nichola Mallon said she had spoken to one worker who was owed money for overtime he did to help pay for his daughter's wedding.
"He's down a significant amount of money," she told BBC Radio Ulster's The Stephen Nolan Show.
"I've spoken to other people who feel like they have to now go to the Credit Union because at the start of the month they have mortgages, they have direct debits, they have bills."