Factory-made homes help tackle N Ireland housing shortage
By Julian O'Neill
BBC News NI Business Correspondent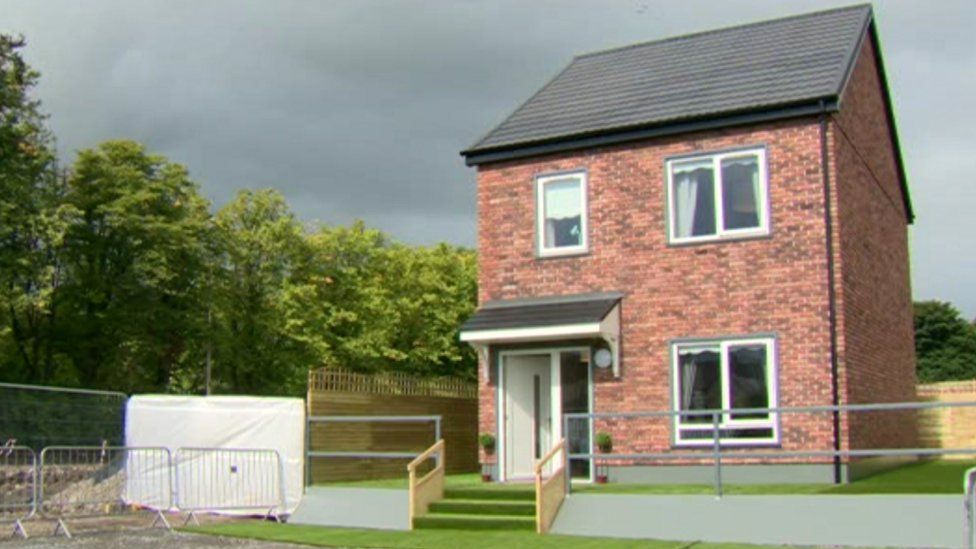 A £6m social housing project is to become the first in Northern Ireland to use factory-made homes which can be assembled on site in a day.
The 40 houses and apartments will be manufactured in Lisburn and put together, complete with decorated rooms, in Carrickfergus.
Clanmil Housing Group is behind the scheme.
It said the project would be delivered 56 weeks faster than using traditional building methods.
The development, at Joymount in the town centre, will take nine months from start to finish.
The concept, known as off-site construction, is already used by other social housing providers in Great Britain.
There are 24,000 people on the waiting-list for low-rent, social housing in Northern Ireland and Clanmil said the project was the right way forward.
"We see off-site construction as the future," said chief executive Clare McCarty.
"We want to help get families off the housing waiting list and into good homes as quickly as possible.
"It could completely revolutionise house building."
The properties will be made by the McAvoy Group, which has been involved in off-site construction in the health and commercial sector for nearly 50 years.
Once manufactured, the properties will be transported on lorries in sections and put on pre-prepared foundations.
They comply to all building and safety standards, are made from steel frames and have a brick finish.