Loughinisland: Arrest of journalists is 'attack on press'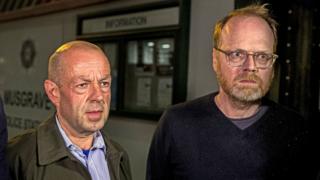 A journalist who was questioned as part of an inquiry into the suspected theft of confidential documents from the police ombudsman has said his arrest was "an attack on the press".
Barry McCaffrey was arrested along with Trevor Birney on Friday morning but were released that evening.
They produced the documentary No Stone Unturned about the murder of six men at Loughinisland in County Down in 1994.
The documents relate to a police investigation into the murders.
Officers from the Police Ombudsman for Northern Ireland (PONI) reported the suspected theft to the police.
The Police Service of Northern Ireland (PSNI) asked Durham Constabulary to conduct an independent investigation.
The inquiry centres on the suspected theft of sensitive material, which was used in No Stone Unturned.
In June 1994, loyalist gunmen burst into the Heights Bar in Loughinisland and killed six people, wounding five others.
The film No Stone Unturned examined claims of state collusion in the murders.
Mr McCaffrey said the families of the victims "didn't get justice today".
"It's an attack on the press, everybody should realise," he added.
Warrant legality challenged
His solicitor John Finucane said no evidence had been presented by police to connect Mr McCaffrey to any offence.
"I, professionally, am deeply disturbed by what I witnessed today and I see this as nothing other than a very sinister attack on the freedom of the press," added Mr Finucane.
Mr Birney said Friday had been a "very difficult day" and his lawyer Niall Murphy said "not one scintilla of evidence" was put to his client.
Filmmaker Alex Gibney, who directed No Stone Unturned, tweeted that the men had been arrested for "good, hard-hitting journalism".
Two homes and a business premises in Belfast were searched by detectives from Durham Constabulary, supported by PSNI officers, on Friday morning.
Police officers seized documents and computer equipment during the searches.
But the material will not be examined by police until the outcome of a legal challenge by the company that produced the documentary.
Lawyers for Fine Point Films brought emergency proceedings to Belfast High Court on Friday, challenging the legality of the search warrant used by police.
Loughinisland vigil
After discussions between the lawyers and police, the court was told that detectives were prepared to give an undertaking not to examine any of the material until the court had made a further order.
Relatives of some of those killed in the shooting at Loughinisland held a vigil in support of the two journalists on Friday evening.
Sinn Féin MLA Emma Rogan, whose father was killed, said the victims' families were "shocked" that the journalists were arrested while those who carried out the murders have never been charged.
The National Union of Journalists (NUJ) said it had "grave concern" about the arrests.
Reporters must be "free to operate in the public interest without police interference," said the union's acting general secretary Seamus Dooley.